Unlock the power of real-time data with Polls, a cutting-edge app that provides highly relevant and invaluable insights for your business. By leveraging this innovative tool, you can gain a deeper understanding of your customers and rapidly collect their feedback. With Polls, you have access to a comprehensive range of features that drive interactive polling experiences, enabling you to make smarter, data-driven decisions.
Considering many benefits of having polls on your social network, we're glad to announce the release of integration of Advanced Polls Plugin in both Native Android app and Native iOS app.
Features That Drive Engagement and Insight:
Polls Creation: When creating polls, Polls offers a range of customization options to tailor your experience:
Add Images to Options: Enhance engagement and visual appeal by incorporating images.
Privacy of Polls: Set the desired level of confidentiality for your polls to ensure data security.
Privacy of Comments: Control the privacy settings for comments, fostering open but secure discussions.
Vote: Encourage active participation and gather valuable opinions through the voting feature.
Show Results: Instantly view and analyze poll outcomes with the "Show Results" button, enhancing transparency.
Like: Allow users to express preferences and affinity by liking their preferred choices.
Comment: Facilitate meaningful discussions and promote valuable insights through commenting.
Edit: Offer flexibility by enabling users to modify their responses, ensuring accurate feedback.
Delete: Maintain data integrity by giving users the ability to remove their responses when needed.
Customize Engagement: Decide whether polls are open for public responses or closed for viewing results only, providing flexibility in engagement.
Share: Seamlessly share poll results via integration with popular social media platforms like Facebook and WhatsApp and increase reach of your site.
Empower your business with Polls and harness the power of real-time insights, gain a deeper understanding of your customers, and make informed, data-driven decisions. With its robust features and customizable options, Polls propels your business towards success by providing a platform for engagement, feedback, and intelligent decision-making.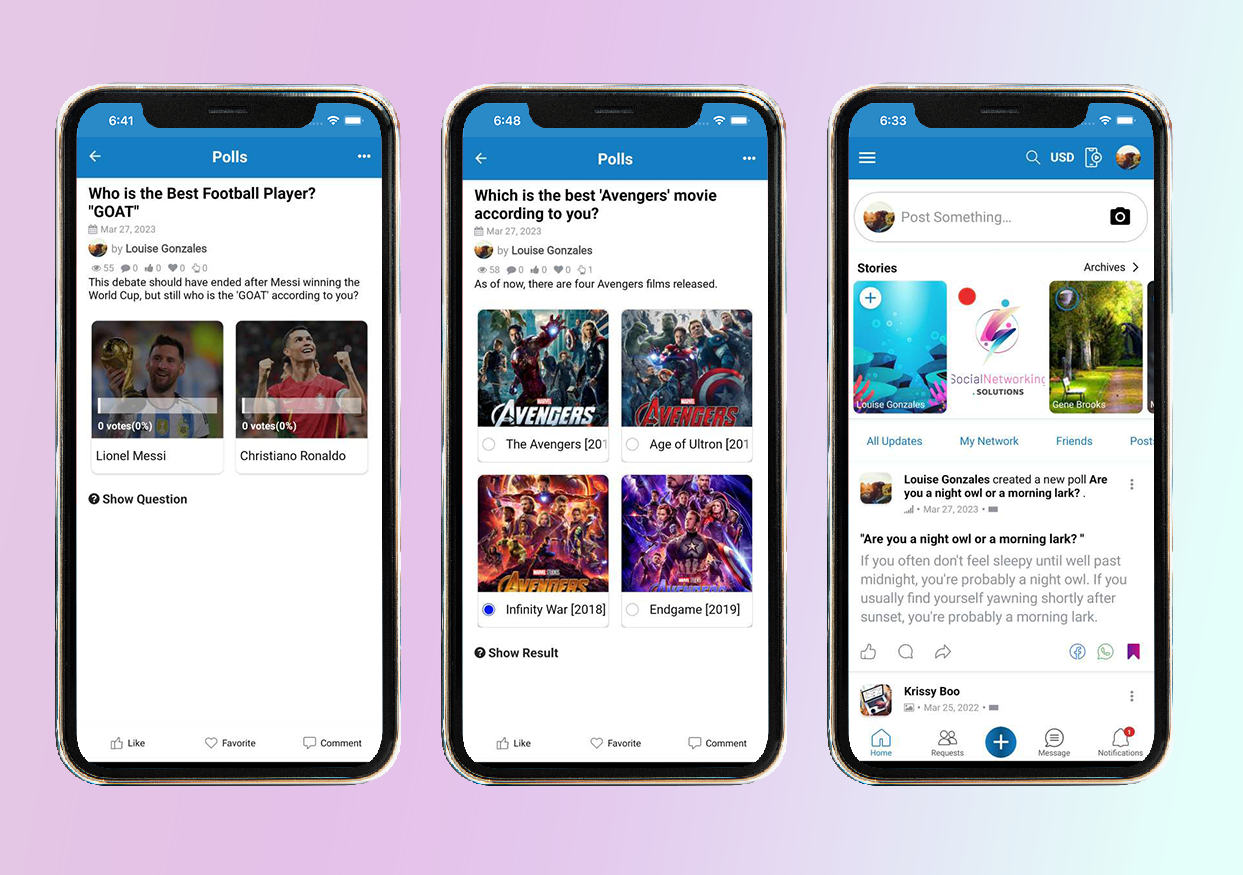 GET CONNECTED WITH US !!!
To boost up the relationship between Experts & Clients, SocialEngine has introduced a new section within their community. So, to stay updated with our New releases, Upgrades & Exciting Offers, please join our SocialNetworking.Solutions Group on SocialEngine Community (after signup).
To stay tuned to our latest updates
Follow us on Twitter, Like us on Facebook, Subscribe our Newsletter
For urgent issues reach out to us at:
+91-9950682999 | vaibhav.sesolutions