Live Streaming
Live Streaming is something through which you can reach everyone in real time, doesn't matter wherever you're. Live streaming gives you a way to connect with your employees, customers, and community. Engage followers, customers, or employees around the world, wherever they watch, Easily stream from devices or your own website. Hence, Live Streaming has become an effective way to engage with the Audiences.
Various Advantages of Live Streaming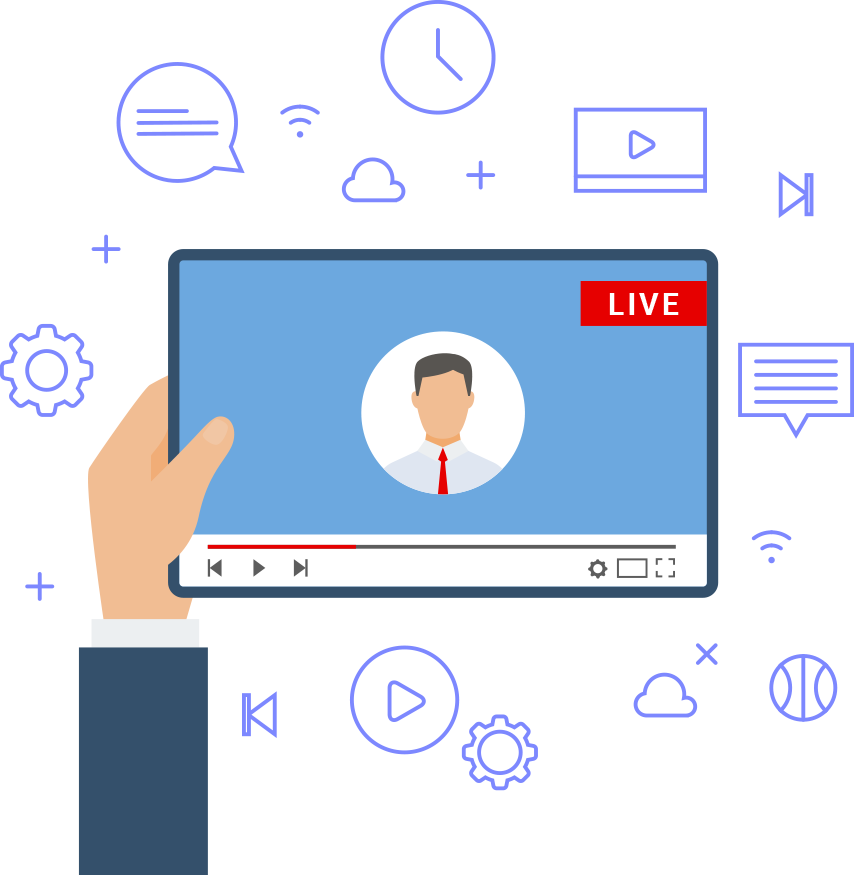 Get connected from anywhere & Share Live Experiences

Stay connected with your Friends & Relatives from device or website with whom you want to share your experiences and enjoy the special moments.

Send Comments & Floating Reactions

With the Live Video,you can share your Views by messaging in the Live Video & can give reactions on the Live events.

Shareable videos in Timeline and Stories

Give more visibility to your live videos by sharing them into the timeline & stories with friends & relatives who missed the fun.
How It Works?
Experience the magic of Live Streaming Everywhere.

"Go Live" from Status Box of Home Page
When you select a Live Video from the Members Home Page then a Preview screen of Live Video will open from where you can give permissions for Camera & Microphone.

Start your Live Video
Get connected with live stream video & send comments and floating reactions to the audience.

Share your Video in Stores or Timeline
Select options to share your videos successfully in the Stories and Timeline to share the happy moments with others.
Key Features we are offering in Live Streaming in Website Plugin
Now-a-days we have seen that the need of Live Streaming is increasing day by day as users are connecting with each other by these Live Videos. The main reason for this is that Live streaming is when the streamed video is sent over the Internet in real time, without first being recorded and stored. So, to reduce the overhead most of the users prefer to use this technology only.
Live Settings for Users

Users can set the Privacy settings for connecting people to join their Video and can enable / disable the sharing of Videos from the Preview Screen of Live Video.

Live Comments and Reactions

Within the Live Video, users can give live Comments and Reactions on them for those Videos which they have joined. Reactions can be seen in Mobile App only via "Live Streaming in iOS Mobile App" & "Live Streaming in Android Mobile App".

View Count

You will easily be notified how many users are connected in a particular Live Session as at the left top corner it shows the View Count of users which have joined the Live video.

Options at Video End Screen

Users can select at the end also, if they want to Share or Delete their Live Video according to their choice.

Share Videos in Activity Feeds

You can join Live Videos from the Activity Feeds and can share them in the same so that more users can watch it.

Share Videos in Stories

Users can join Live Videos from the Stories and can share them too.

"Thanks for Watching Video" Screen

Audience can start their own live video after the end of Live Session they are joined by simply clicking on the "Go Live" button.

Easy to Configure Member Level Settings

Admin can configure various settings for this Plugin based on the different member levels like from the Admin Panel such as:

Enable / Disable Live Streaming
Allow Save Live Video
Sharable Places for Live Video
Maximum Allowed Live Video Duration
Maximum Allowed Live Streaming