According to the traditional ways, all the documents are paper based, which increases the overhead to maintain it and its security is the biggest issue to worry about. But in this fast moving world, everything becomes fast, advanced & handy. Similarly, using Google Drive for storing Documents will prevent you from any loss and are easily accessible from anywhere.
With the help of Document Sharing Plugin, you can easily share your documents and they all are stored safe in a single Google Email. You can access these documents anytime, anywhere which saves your time and helps in sharing things in an easy manner.
Document Sharing Plugin is highly customizable which will help to configure various settings as per your choice and based on the different Member Levels. Users can create documents according to the different categories and can easily share them on various social sites and also download & send them in email. Also this plugin comes up with the default Icon type (Video, Image, Textual etc.) for the documents which help you to recognize well.
Watch Video
How to Install & Get started with Documents Sharing Plugin
Extension Type
By-Default, this plugin provides you various extension types (pdf, txt, doc, ppt, jpg, jpeg, png and many more) for the documents according to which users can upload their documents. But if Admin wants to allow users with some more Extensions then, he can add more extensions with the default ones from the Global Settings in Admin Panel, in order to provide users to upload their documents with more extension types.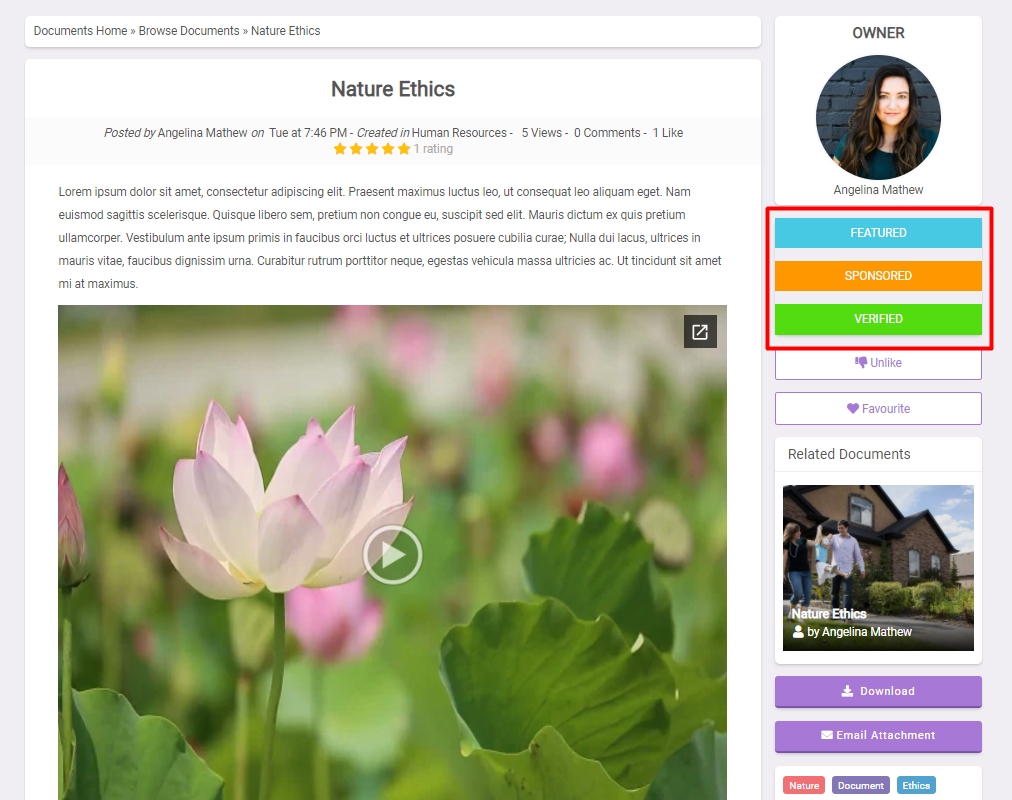 4 Document Labels
For the Documents uploaded by using this Plugin we have provided 4 Document Labels such as Featured, Sponsored, Verified and Of The Day which will get displayed at the various widgetized pages and in sidebar widgets of this plugin.
These labels are decided by the Site Admin and help users to make their Documents more popular through these labels and this will help other users to get the useful documents and hence increase the visibility of Documents on your website.
Documents Categories and Custom Fields
Admin can create Parent categories, 2nd-level categories and 3rd-level categories for Documents which allows you to easily categorize Documents into various Categories, 2nd-level categories and 3rd-level categories of your choice.
Categories can have Icon, Coloured Icon, Thumbnails, Description, Own Category Slug.
You can create, add or remove the unlimited number of Custom Fields from the Form Questions section in the Admin Panel.
When you map created custom fields with any category then on the creation of any news in that category will ask the same fields and will display it on the 'Document Profile Page'.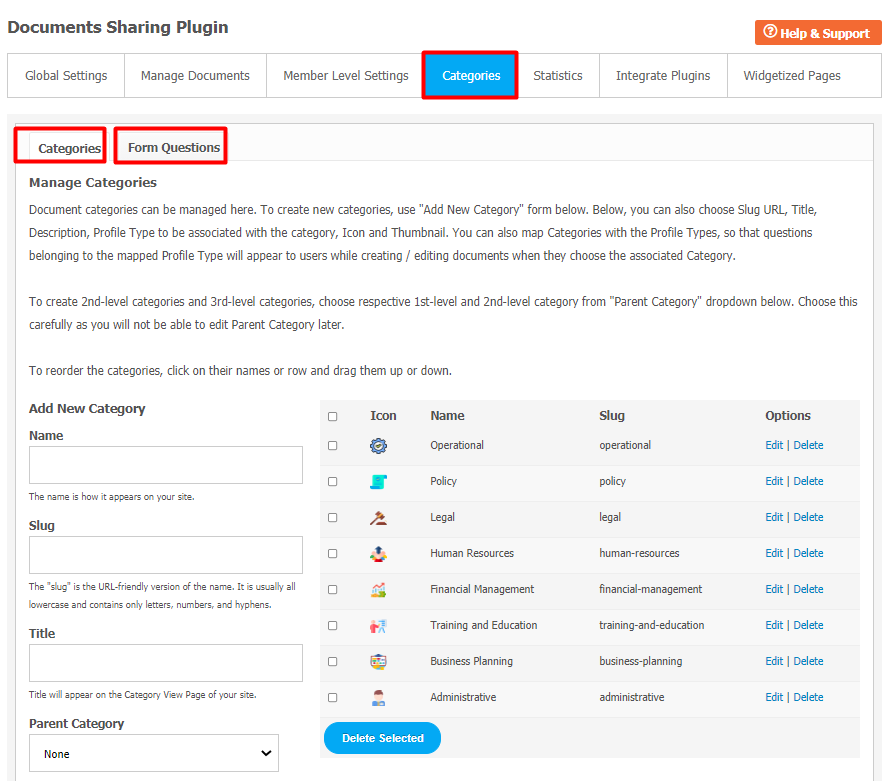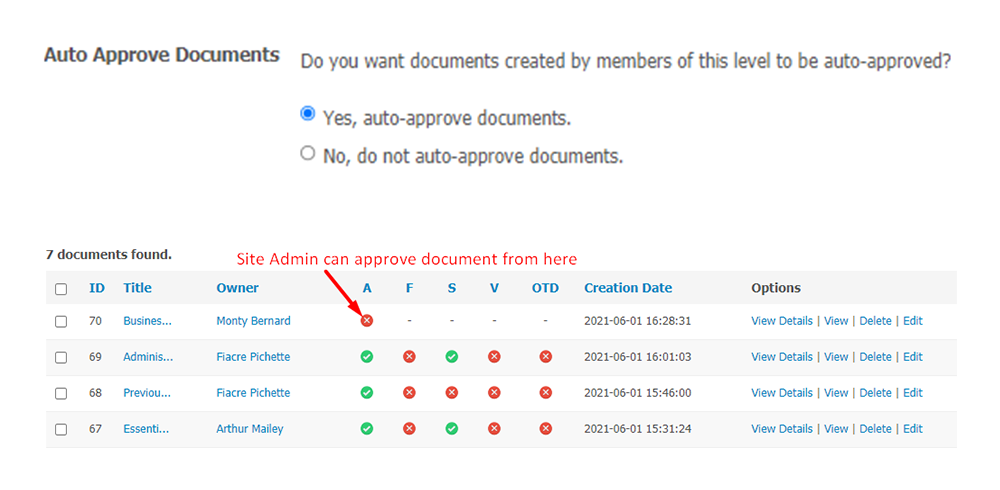 Auto-Approved Documents
From the Admin Panel of this plugin, you can enable / disable the Auto-Approve feature for Documents based on different Member Levels. If you enable it then, any document created will automatically be approved & if you disabled it, then only the admin can have the right to do that for the document.
Document View and Comment Privacy
You can allow the users of different Member Levels with the privacy settings of View and Comment on their documents.
You can allow users to show their documents to different groups of people like everyone, only registered members, friends and networks, friends of friends, only friends and just me.
These settings are used to protect your documents from any kind of loss and insecurity.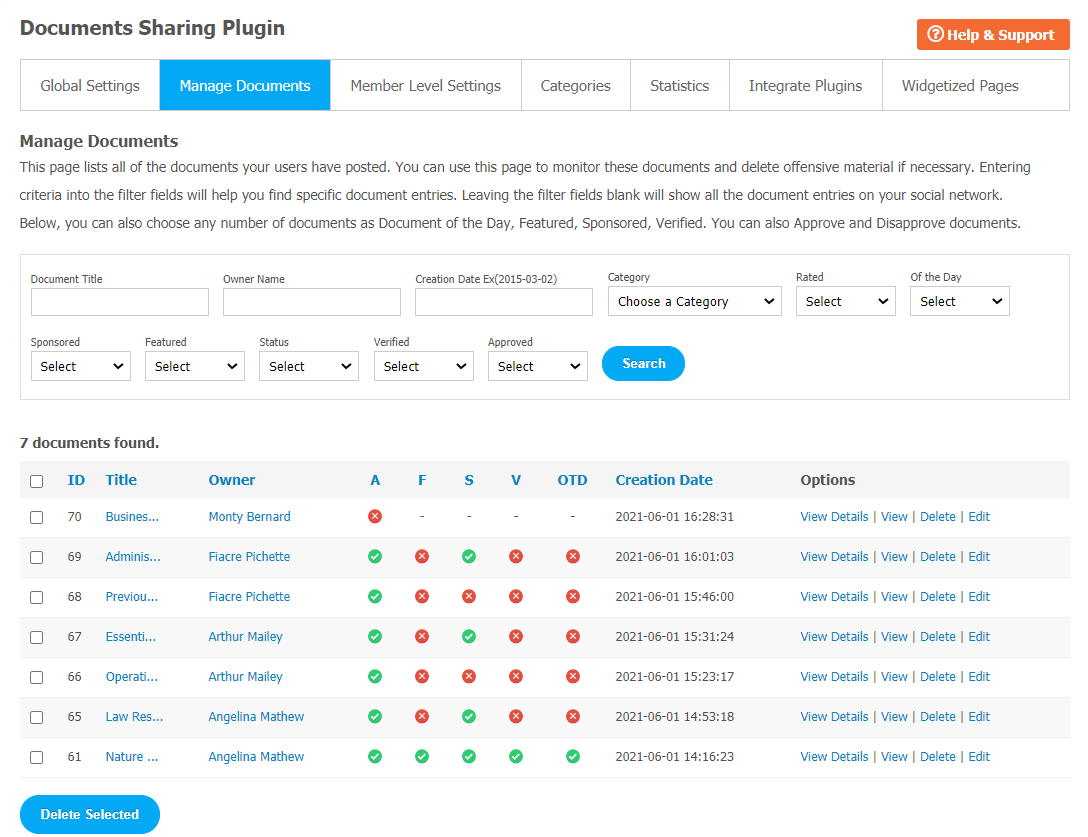 Manageable Documents
The documents created by the users can be easily managed from the Manage Documents section of this Plugin.
Admin can View and Delete any specific Document with its details also as per the choice.
These Documents can be marked as featured, Sponsored, Verified, Of the Day according to the choice & requirement.
Admin is also enabled to search any Document by entering the fields into the search filter under this section.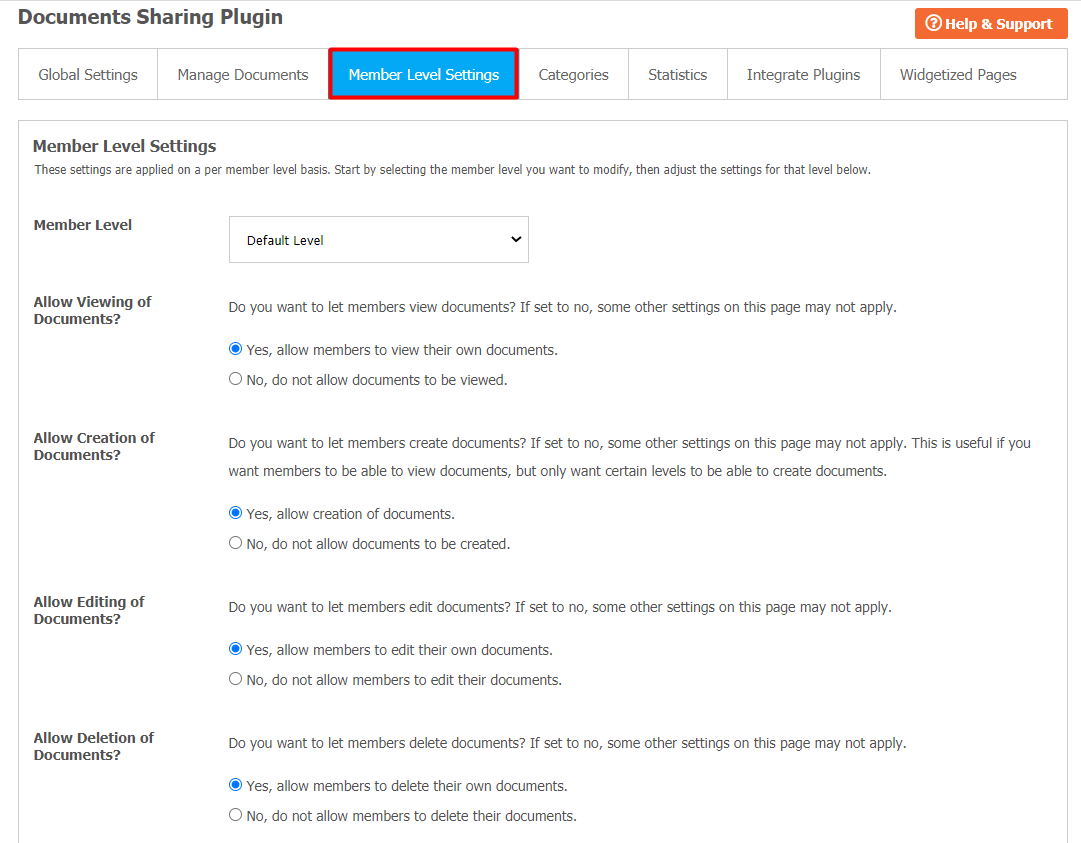 Member Level Settings
With this plugin you can have control over various functionalities based on the Member Level and can change various settings accordingly. Some of its settings are:
You can enable / disable the documents to view, create, edit, delete and comment.
You can enable / disable auto-approve, featured and sponsored features for documents.
You can enable / disable the settings for highlighting the documents and configure other settings related to it.
Here, you can configure the settings of documents View and Comment privacy.
Can configure settings for allowed documents and its size.
And enable / disable the settings for downloading.
Help & Support Section
For any queries & questions in using this plugin, you can explore the help section of this section which will provide answers to all your queries.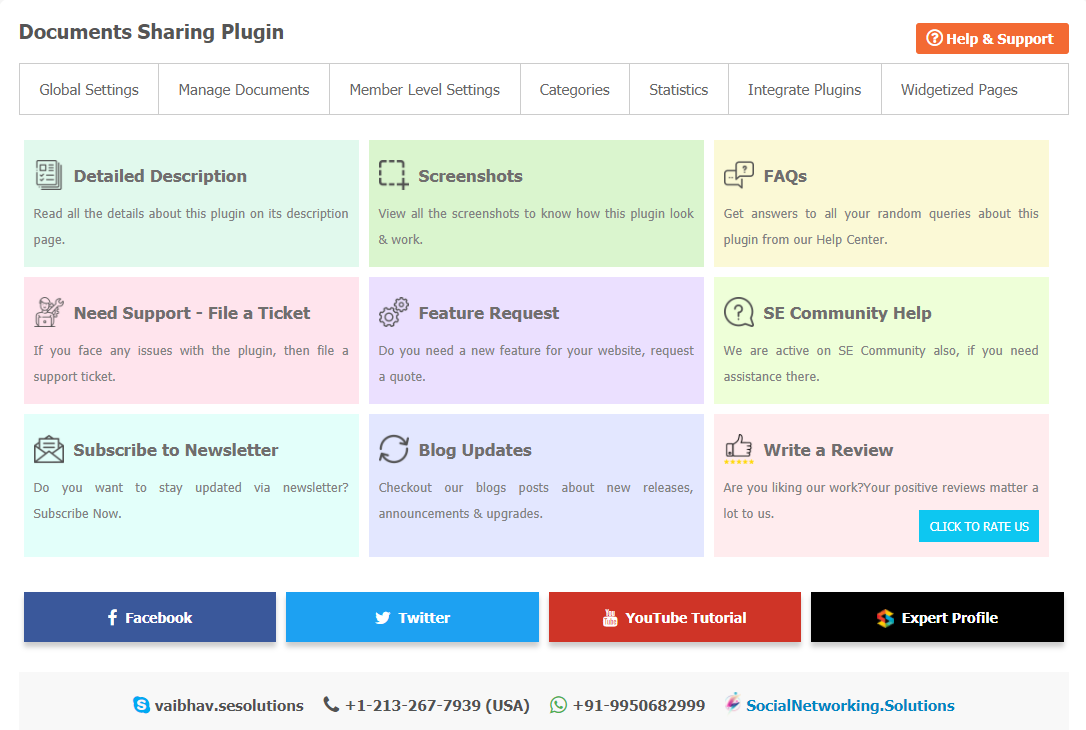 100% Responsive
The plugin is 100% responsive. Automatically adapts to any devices (Mobile phone, tablet and desktop). You can take full control of the color scheme and designing of slides with our powerful yet easy-to-use admin panel of this plugin from setting to styling.
1 Click Install & Easy To Setup
This plugin can be easily installed with 1 click and can be easily configured. Helpful Video Tutorials, Installation Tutorial and FAQs for this plugin will make it more easy for you to setup and allow your users to send birthday wishes to their friends very easily.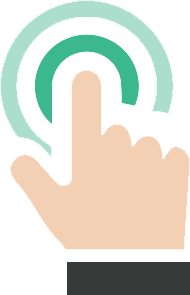 Lifetime Upgrades & 90 Days Free Support
Get free upgrades lifetime for this plugin and free support for first 90 days of your purchase.