Bulk Importing, Creating New / Dummy Users Plugin is totally a core Administration tool with the help of which site Admin can easily create numbers of users / Dummy users and can import users through CSV file to his site in just few minutes. A Powerful tool which makes your site more engaging with these users which ultimately increase the gathering and trust on your website. Obviously a site full of users provides a security to the new users and emphasis them to create their accounts and explore it more.
3 Ways for Easy Users Creation
This plugin let you create numbers of Users for your site in 3 different ways very easily. These three ways are:
Single User creation
Multiple Dummy Users creation
Import members through CSV File.
This process is very reliable and time saving which ultimately reduces the efforts of members creation one by one for your site.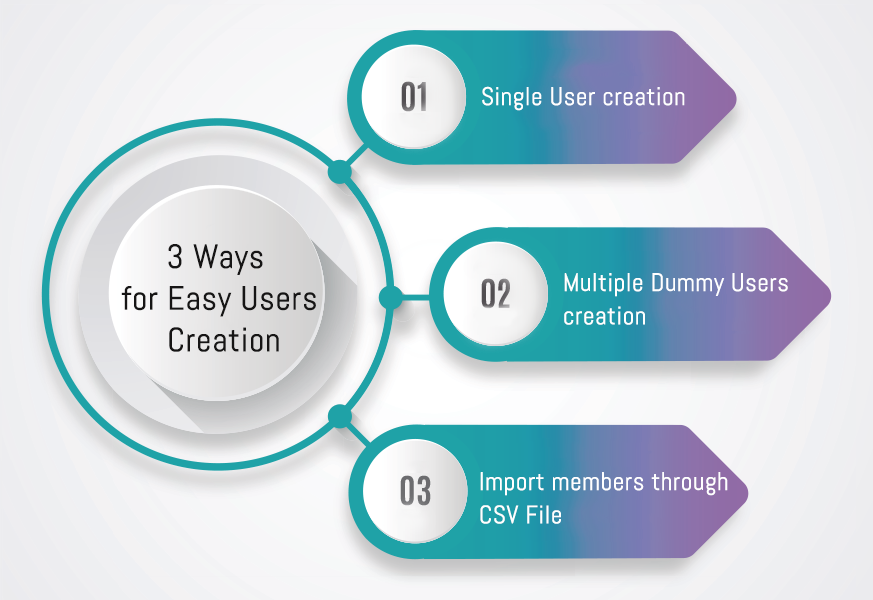 Complete User Creation Solution
Site owner don't need to bother about the numbers of users for his site which is the crucial aspect of any website. He can simply create any number of users from a single place without giving much efforts.I am sure It's a great solution for every site owner.
Single User Creation
If you want to create a single user for your website then you can do that from this section very easily. All the fields which need to be filled up in the form are same just like the signup page of your website such as Email Address, Passwords, Profile Address, Profile Types, Time Zone, Profile Photo, Member Level, Networks etc.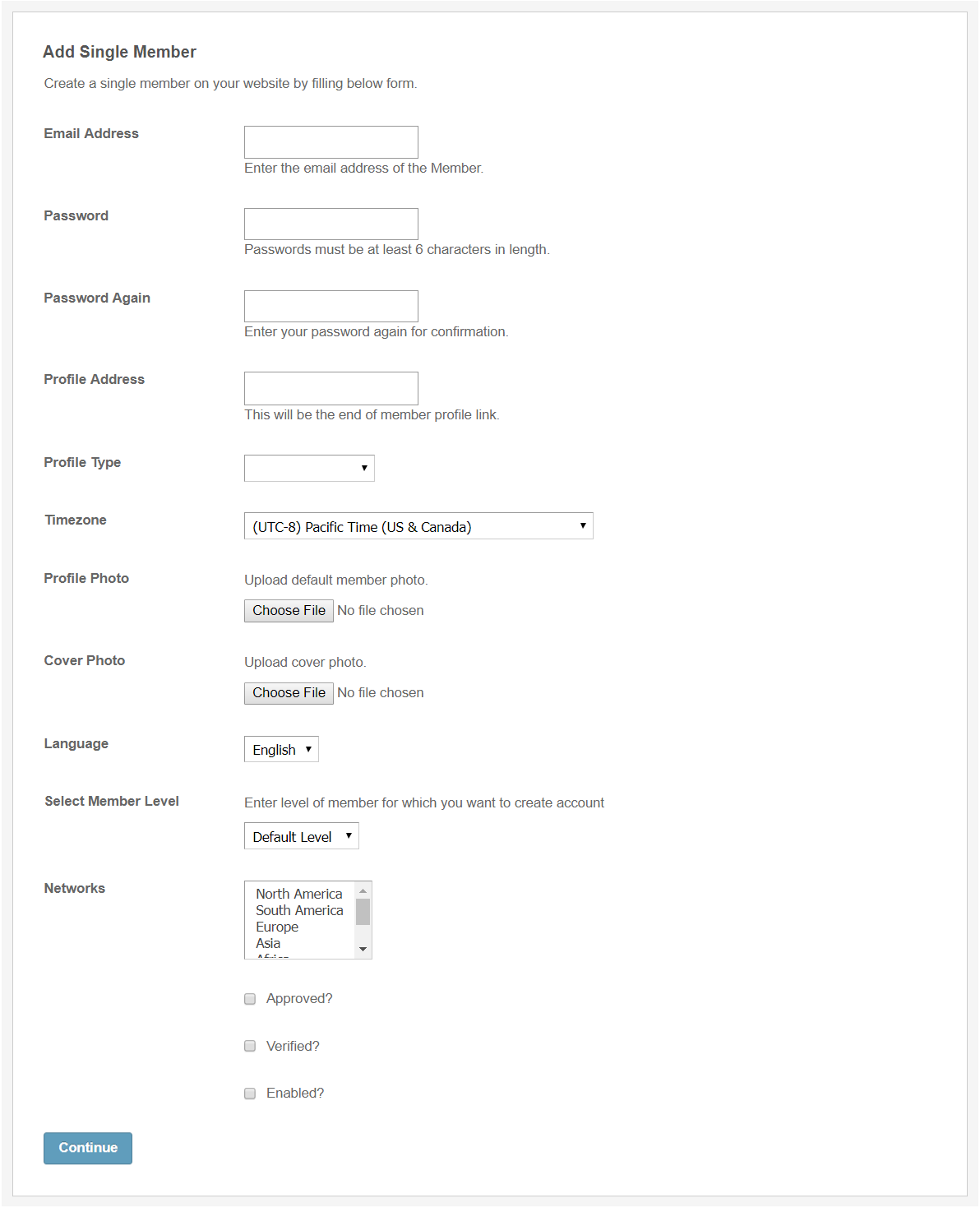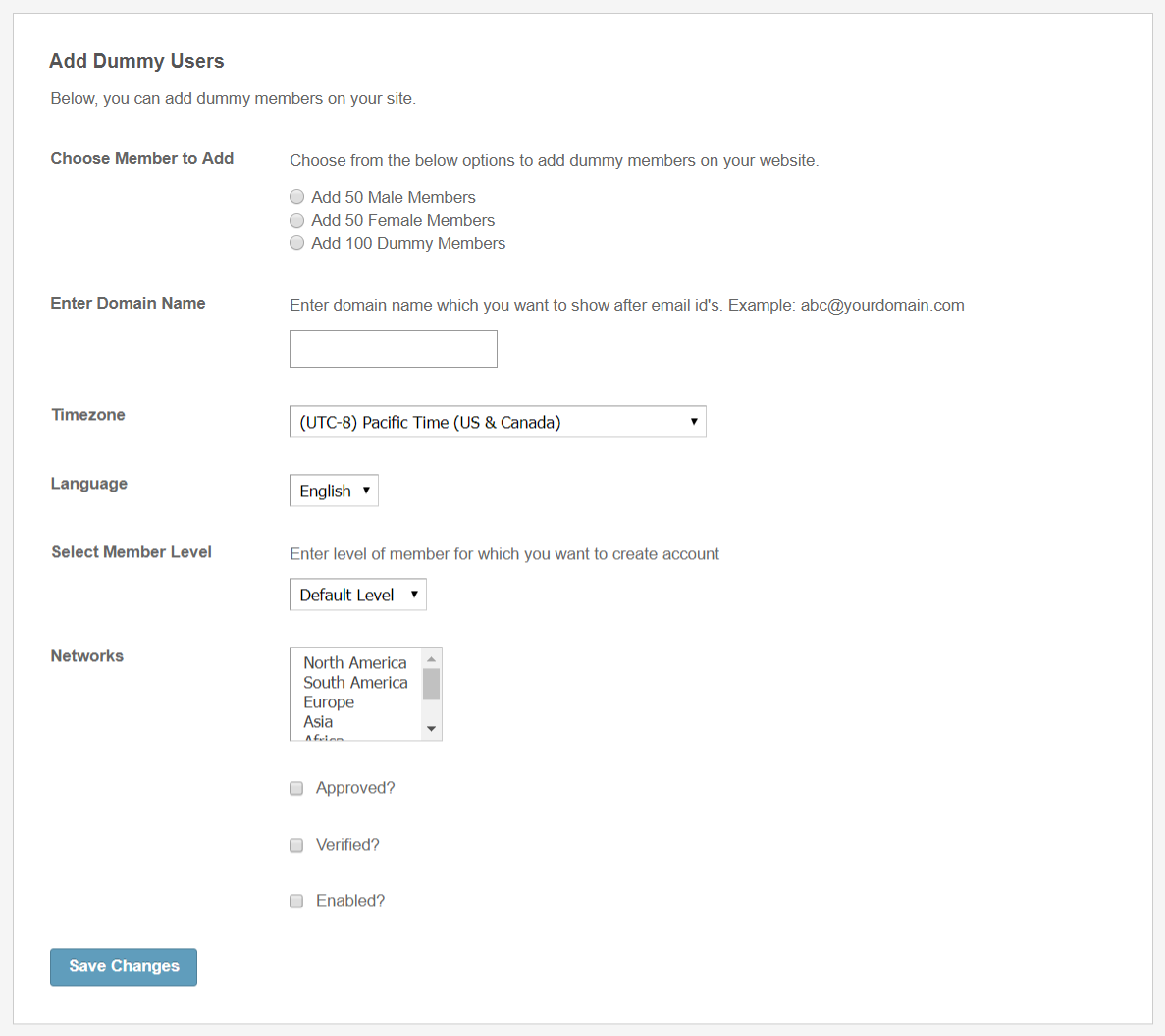 100 Pre-configured Dummy Users
Sometimes you want dummy users for your demo websites with which users can easily login without creating account in actual and can explore your website.
This plugin facilitates you to create 100's of Pre-configured Dummy users with the option of choosing Gender also. By entering the various fields and domain name ( common for all the members you want to show after email id's. ), you can create dummy users in just few minutes.
Members Import using CSV File
This Plugin enables you to import Members on your website from CSV file which you will get after downloading the template from "Import Members" section.
Whatever details you write in this template for members they automatically get imported to your website with just one click.

Powerful Administration
This plugin has a very powerful admin panel which provides various settings to enable / disable for almost all the options. We have provided a rich set of settings. Writing about admin panel would be too short for this plugin, so we have created Screenshots of all the sections in Admin Panel.
Global Settings

You can simply activate your plugin from this section at your website.

Add Single Member

Admin can add single member by entering the various details for that and that user will automatically gets added to the list of members on your website.

Add Dummy Members

100's of Pre-configured dummy members can be easily created with this plugin with the Gender choice. These members can be created by just giving the common domain name.

Import Members

Site owner can easily import all the members by using the CSV file in which details of all the members are entered. By just clicking on one button all the members get imported your desired Website.
1 Click Install & Easy To Setup
This plugin can be easily installed with 1 click and can be easily configured. Helpful Video Tutorials, Installation Tutorial and FAQs for this plugin will make it more easy for you to setup and add as many users as you want for your website.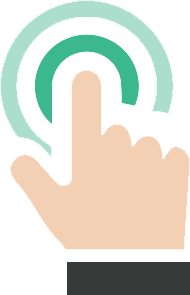 90 Days Free Support
Get free upgrades lifetime for this plugin and free support for first 90 days of your purchase.