It said that: The quality of products and the support a company provide is directly proportional to their performance.
As SocialEngine (SE) is a software suite that allows creation of customizable online communities.
We ask you what are the main requirements for creating the online communities best.
| Online Community Type | Public | Private |
| --- | --- | --- |
| Blogging Site | | |
| Public Social Networking Site | | |
| Private/Adult Online Community Site | | |
| Hybrid Online Community Site | | |
| Special Interest Groups | | |
As for the network sky is the limit.
We present you wide range of our plugins which will be best suited for your website. Have a look :-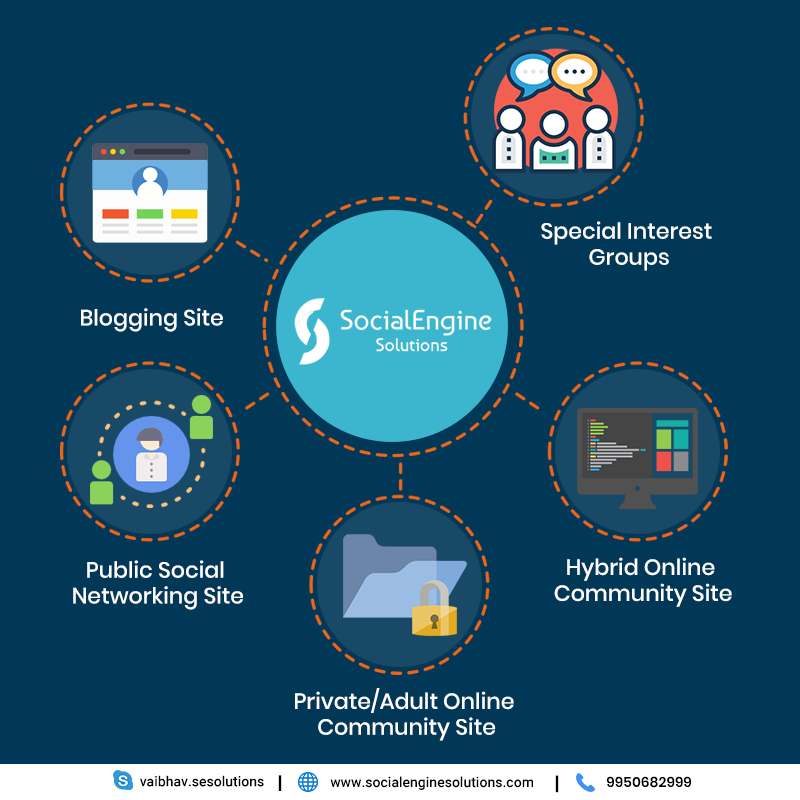 Advanced Blog Plugin
For blogging website, its a whole package if someone has bogging site.
You can use this plugin as ARTICLE, REVIEWS, DESCRIPTION PLUGIN & many more. Due to its versatility this plugin is by far one of our most purchased plugin.
Advanced Members Plugin
Every website needs member to join them and the profile should be very user friendly and it should easy to find other members easily.
This plugin will work for all types of websites.
If your website is supporting members mainly then with this plugin you can add our Member Profiles Cover Photo Plugin
Advanced Photos & Albums Plugin
Masonry Galleries, Fullscreen responsive Lightbox Viewers, Welcome Page, photo upload via Drag & Drop and URL, in-build Social Sharing, member profile photo upload via 3 options, photos and albums send via SE message are few of the FEATURES from this plugin which you will surely love to Have!
All the online community social sites should have this plugin as it gives rich and effective push to the website.
Advanced Videos & Channels Plugin
This plugin is best for the sites which provide videos to their audience.
For Private/Adult & hybrid online Community Site this is the best plugin.
This plugin will give you to add videos from –

YouTube
Vimeo
DailyMotion
From Embed Code
From Facebook embed code
From Twitter embed code
Your computer
Advanced Events Plugin
Working in medical field, engineer field, got your own business like party planner or event planner, etc and want to manage the conferences or the events that were happening our surroundings/office/hospitals this plugin will help you to reach your clients.
Advanced Music Albums, Songs & Playlists Plugin
Everyone loves to listen music and this plugin is a must for all in today's world but what makes this plugin so special is that can create their own music albums, upload songs, rate music albums songs, create playlists and many more features.
Best suitable for all musicians and music lovers to get benefited from advances in audio and internet technologies designed to enrich the web with fast, highly compressible music downloads and interactive audio player.
We also provide great extensions like –
WE HAVE ALL THE PLUGINS AND THEMES FROM WHICH YOU CAN DESIGN YOUR DREAM WEBSITE.
TRY THEM ALL.
We also design custom plugins and features if you needed/modify anything in our plugins.
Our Native Android and iOS Mobile Apps will enable you to have user friendly mobile apps for your SocialEngine community. Your website is just at 1 click with our Native Apps.
Checkout the demos:
To stay tuned to our latest updates
Follow us on Twitter, Like us on Facebook
You can subscribe to our Newsletter from the footer of our website.
For urgent issues reach out to us at: Whatsapp: +91-9950682999