Theme Builder is one of our most selling product and is in great demand these days as it gained so much good response & appreciation from our clients in very less time. Our Clients find easy to build up their site with theme builder as they can configure & transform every element of it for their website in the way they want.
To help you better analyze your own website, we have created various demos for Theme Builder among which Ecommerce Shopping is one which gives you an idea to visualize how your own website will look after setting up theme builder.
So for giving you more varieties, we have come up with the new Travel based demo "Travel Fantasis" which is exclusively setup for the travel lovers who want to build up their own Social Travel Platform. Each & every element for this demo is setup in such a way that it totally describes the travel theme, its purpose & design.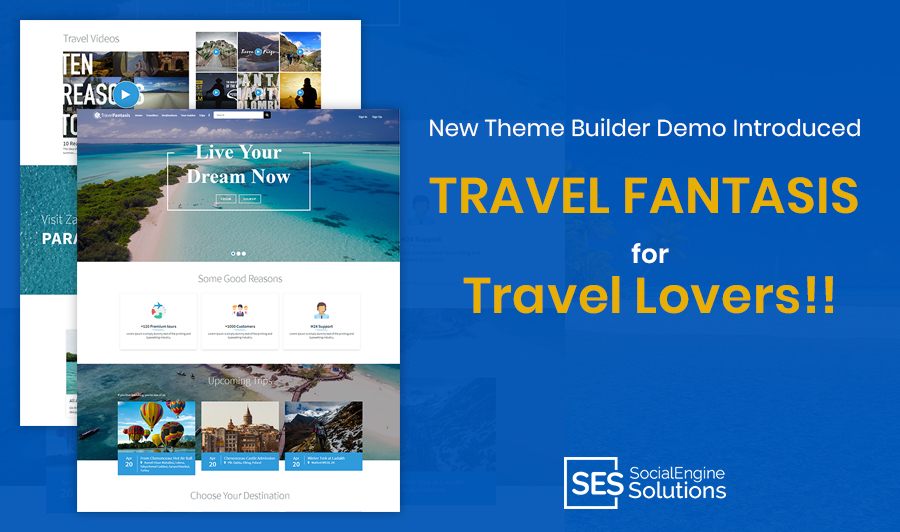 So if you also want the same demo for your SE website, then please contact us and share us your requirements.
If you have any custom requirement for Theme Builder Demos and want us to create any specific demo for you, then please contact our support team.
Note: You can purchase complete package (with Theme Builder & other necessary SES Plugins) for our new "Travel Fantasis" demo directly from SE Store.
Offer from SocialEngineSolutions:
Integration of Stores Marketplace with Native Android Mobile App is going to be released next month, so if you are planning for apps, we are providing 7 Days trial for both the Native Mobile Apps (Android & iOS). Contact our team at
sales@socialnetworking.solutions
or
support@socialnetworking.solutions
to get your trial App.
To stay tuned to our latest updates
Follow us on Twitter, Like us on Facebook, Subscribe our Newsletter
For urgent issues reach out to us at:
+91-9950682999 | vaibhav.sesolution