How would you feel when you receive a gift online on your special day like Birthday, Anniversary or any festival like Christmas? Wouldn't you be excited about it? Yes. Of course, we all have an excitement for "GIFTS". Also this is one of the best strategies which would help to increase engagement on your website & hence results in great traffic as well as revenue. So if you want the same for the users on your website, then Virtual Gifts Plugin will be the perfect match as it allows site admin to create as many virtual gifts as he wants from the admin panel. Other site members can purchase these gifts at the time of sending them to other members / friends. They can buy gifts either with the Payment Gateway – PayPal or with the earned Credits which they have in their account. Also the sender can send a Message with the Gift by keeping Privacy as Public or Private. Users will get notified for the gifts they get from other site member / members.
KEY FEATURES OF VIRTUAL GIFTS PLUGIN
Create Unlimited Virtual Gifts

With this Plugin, site admin can create as many Virtual Gifts as he wants by adding various details for it. Also can edit / delete them whenever required.

Gift Icon / Image

Admin can add Icon or Image for the Gift at the time of creation which gets displayed at the various pages of this plugin at the user end.

Gift Price

Admin can add price(in $) for the gifts as per the choice which users can purchase from Browse Gifts Page.

Purchase Gifts

Site users can purchase any of the gift as per their choice from the Browse Gifts Page, Gift View Page or either from the member profile page.

Send Gifts

Users who have purchased gifts from the site admin can send gifts to their friends or other site members as well.

Browse All Gifts

Browse Gifts Page contains all the gifts which are created by the site admin from the admin panel. From here, users can purchase any of them as per their choice.

Sent Gifts

At My Gifts Page, Senders can checkout all the Gifts under the "Sent gifts" tab which they have sent to other site members on your website.

Received Gifts

At My Gifts Page, Receivers can checkout all the Gifts under "Received Gifts" Tab which they have received from the other site members on your website.

Gifts on Member Profile Page

Members can check all the gifts received by them from their Profile Page as well. It will contain all the details along with the gifts.

Privacy for Message & Sender Name

At the time of sending a gift to the member, the sender can keep his name & message as Private or Public depending upon the choice.

Gift View Page

This Plugin provides a View Page for each gift which contains all the necessary details of the Gift. Users can send the gift directly from this page.

Display Gift Price to Receiver

From the admin panel, You can enable/disable whether you want to display a gift price to the receiver for the gift they get from the sender.

Integrated with Credits Plugin

This Plugin is well integrated with Credits plugin which enables users to purchase any of the gift by using credit points which they have in their account.

Notifications & Emails

Users will get notified whenever they get gifts. Also site admin will get emails & notifications for the payments which users made at the time of gift purchase.

Manage Gifts

This section contains all the gifts created by the site admin. Also he can create as many new gifts from this section as he wants.

Manage Orders

From the Manage Orders section, Site admin can manage all the Orders for the purchased gifts on his site. This section will contain all the required details for the Gifts.

Manage Gateways

This Plugin is well supported with the SocialEngine Payment Gateway – PayPal with the help of which users can follow purchasing of gifts on your website.

Widgetized Pages

This Plugin provides 3 widgetized pages which you can configure very easily from the Layout Editor in the Admin Panel.

8+ Highly Configurable Widgets

This Plugin comes up with the 8+ highly configurable widgets which you can configure as per your requirement in the admin panel of this Plugin.

Help Section

For any queries & questions in using this plugin, you can explore the help section of this section which will provide answers to all your queries.

Robust Admin Panel

Easy to use admin panel of this plugin will provide all the useful features which you can configure as per your choice.
100% Fully Responsive
This Plugin is 100% Responsive & best supported in any of the devices.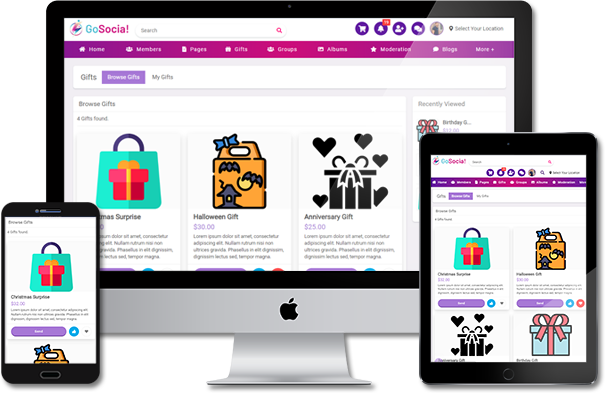 1 Click Install & Easy to Setup
This Plugin can be easily installed with 1 click and can be easily configured. Helpful Video Tutorials, Installation & FAQs for this plugin will make it easier for you to set up this plugin.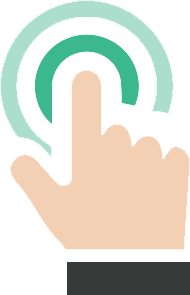 Lifetime Upgrades & 90 Days Free Support
Get free upgrades lifetime for this plugin and free support for the first 90 days of your purchase.