YouTube is a great platform and can be a great space for teens to discover things they like. These days YouTube liked by all and is used to watch music videos, comedy shows, how to guides, recipes, hacks and more. It become more trendy and easy to use with just one click. So do you also want to let your users to create or curate the same videos and content on the platform just like YouTube, then our Utube Clone Theme is the best choice for you. With this theme you can give an interesting and professional look to your Socialengine based website just like YouTube.
The Vertically placed main menu of this theme to provide beautiful look to your website and easy access to content like Home, Albums, Members, Videos and other content based on the categories made this theme best suitable for your website. Beautiful Header with Global Search and other important elements like Notifications, Friend requests & Messages will make this theme somehow unique and elegant from other video based themes.
Utube Clone Theme is easy to customize with various configurable settings for Landing page with Member Cloud & HTML Blocks, Customizable Header, Pre- built Color Schemes, Manageable Banners, Adjustable Fonts for your website which you can easily customize from the Admin Panel.
Attractive & Configurable Landing Page
The very attractive landing page of this theme is surely going to give a complete feel of YouTube to your users that they might get confused for a while that they are on Youtube. It is a Complete theme Package with the attractive Landing page is especially designed to make your website look more expressive and trending. You can easily choose the Banner Image, Color Schemes, Member Cloud settings, various HTML Blocks, Headings & Moving Descriptions for the Landing Page.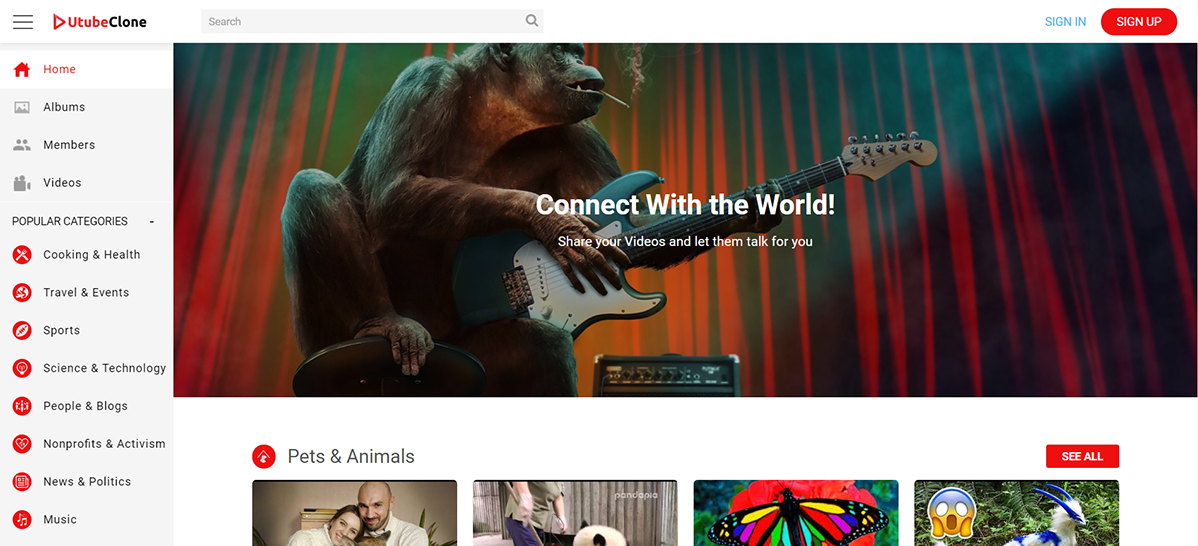 Attractive Banner Slideshow
Each banner is highly configurable and can have unlimited slides with Title and Description for each slide.
You can place these banners anywhere on your website including the Landing Page and any other widgetized page of your choice
With this theme, you are allowed to create and manage numbers of Banner slideshows.
You can add as many slides you want in the banner Slideshow and configure them also from Admin Panel.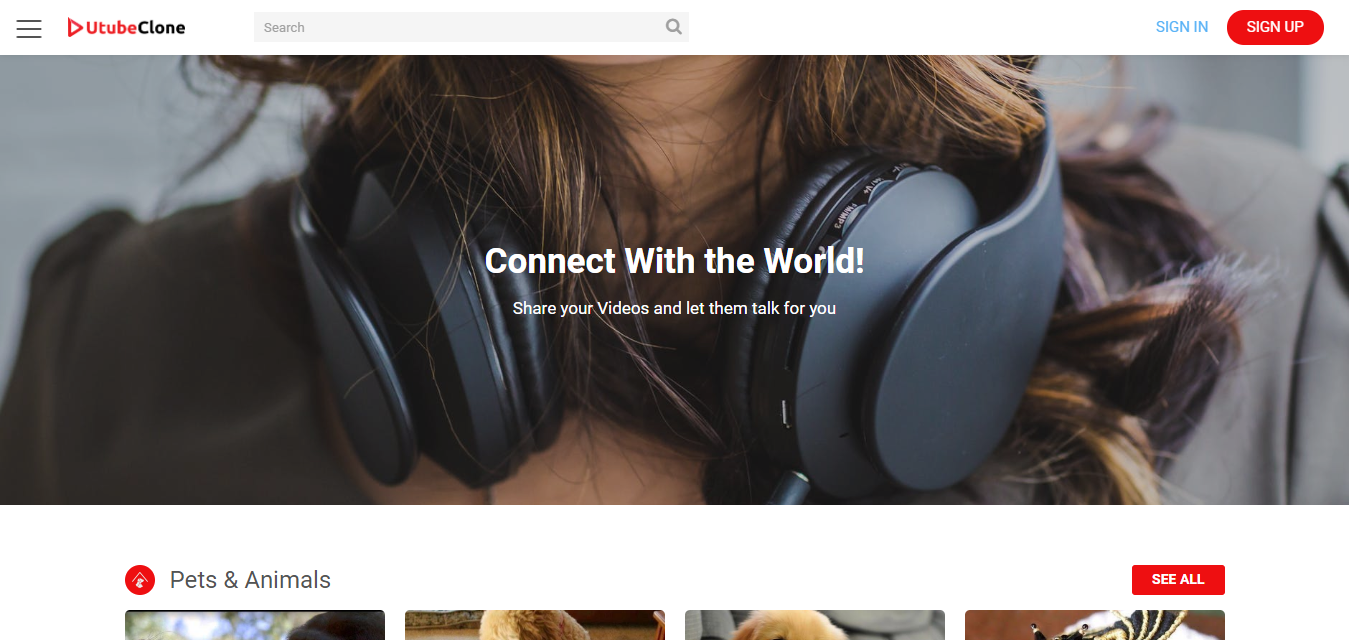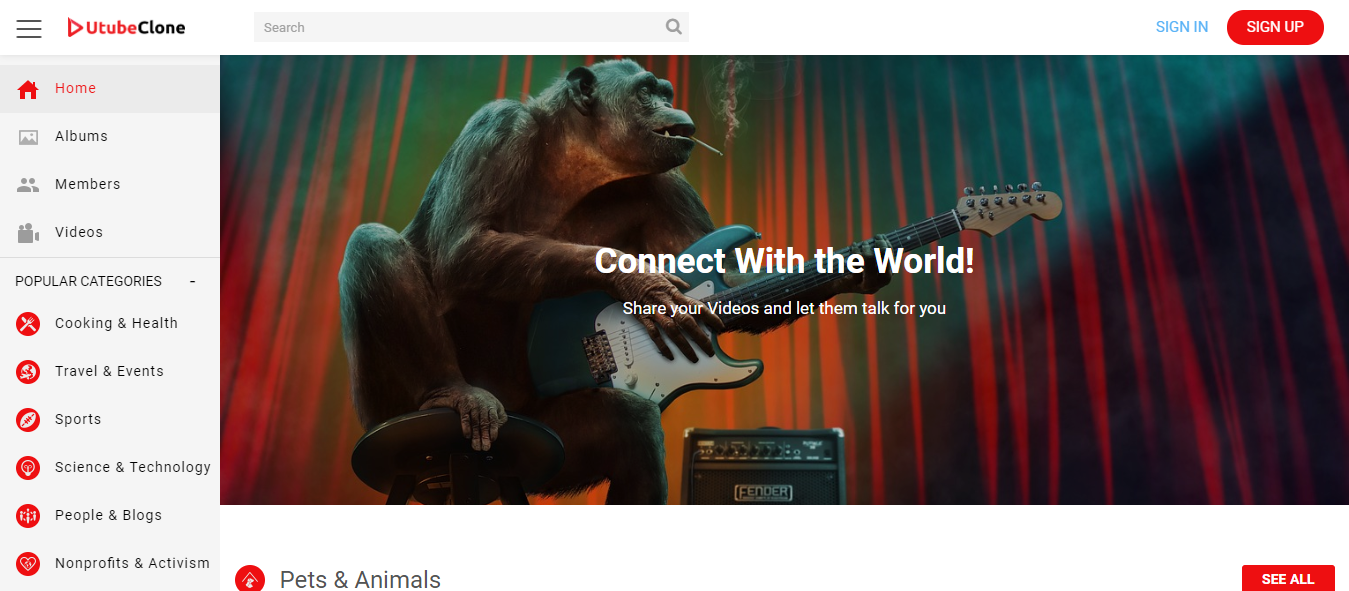 Unique Vertically Designed Header
Header decides the overall quality and feel of your website. You can transform the look of your website by enabling the vertical header which get displayed at the left corner of your website with the Main menu displayed for Logged In and Non Logged In members which are configured from the Admin Panel of this theme.
Also you can enable Plugin Navigation Menu for the Header from "Manage header" section in Admin Panel.
Admin can choose to Auto-open the login popup.
12 Pre-configured Light & Dark Color Schemes
One click and easy to choose theme colors from the available 12 Pre Configured color schemes categorized as – Light Color Schemes & Dark Color Schemes.
You can also make your own one by configuring it according to your requirement from the Admin Panel.
Design a new theme just by configuring the below settings:
Header Styling Settings
Footer Styling Settings
Body Styling Settings
You can create as many new themes you want, Edit them and Remove them also.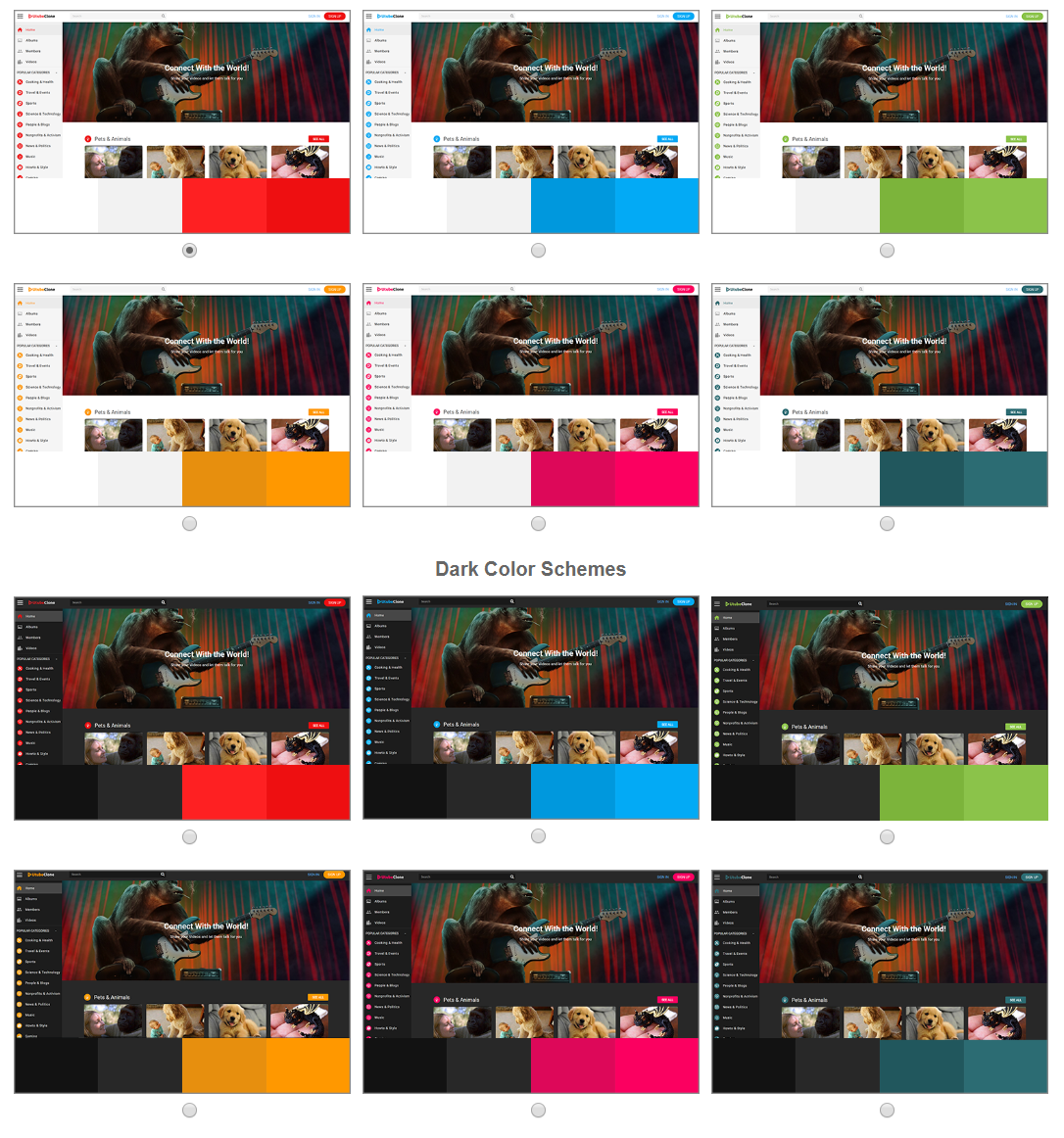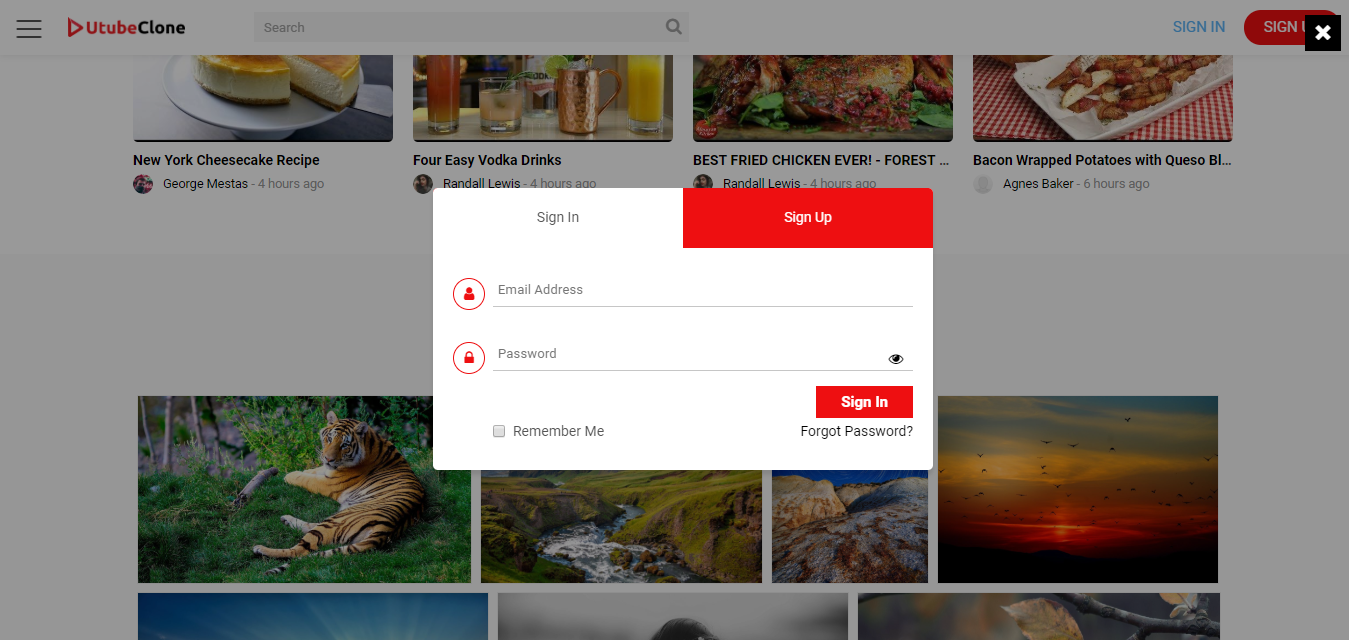 Quick Login & Signup Popup
Login popup is visible only to site visitors to encourage them to quickly and easily login / signup on your SocialEngine based website.
Admin can configure various settings for the Pop Ups such as Enable Auto open of Popup for Sign In & Sign Up, Enable Open Sign In Popup Automatically, Set Sign In Popup Visibility, Allow to Close Sign In Popup etc.
Extensive Typography & Modifiable Fonts
This theme comes with a choice of Multiple Fonts from Google Fonts and Web Safe Fonts which are included in this theme. Based on Main menu, Body and other places, you can choose the Font Style and Font Size on your website.
With this feature you can make your website look more stylish and attractive with the varieties in the Fonts.
You can also modify these fonts as per your requirement.
Not only Font type but also the font size can vary for distinct sections on your website.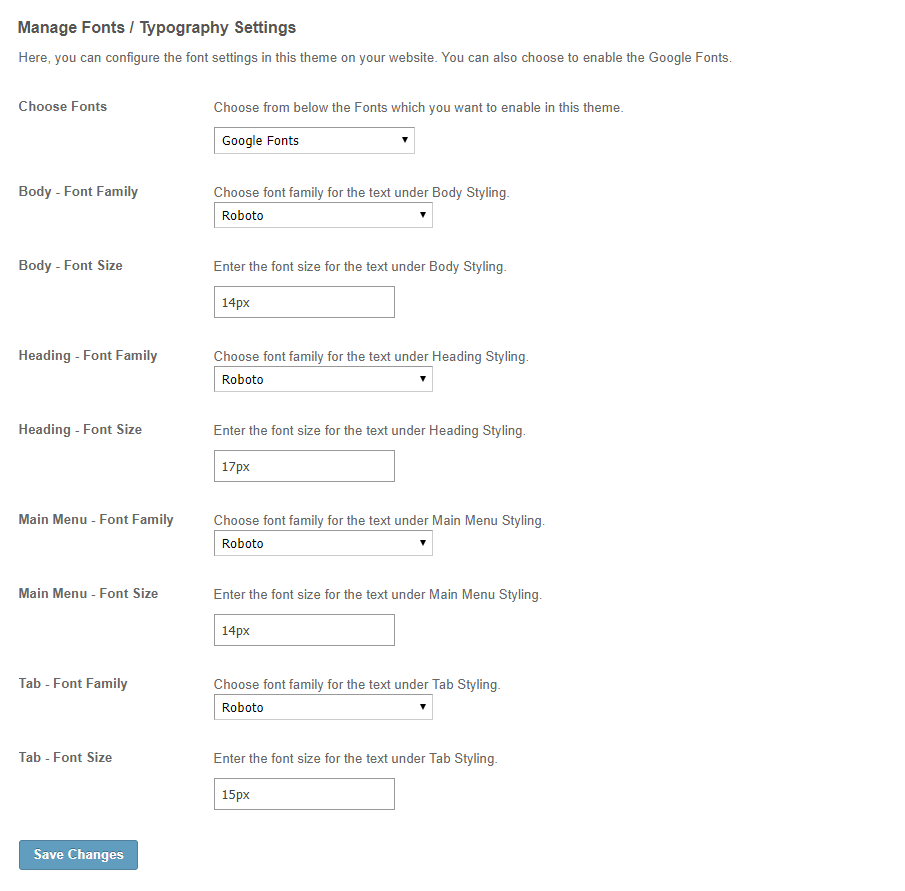 Custom CSS

Admins can easily mention there theme custom works in the Custom CSS section in the admin panel of this widget. These changes mentioned in the admin panel will not be lost during theme upgrade.With this theme, you do not have to mention the changes in the Theme.CSS file.

Unlimited Slides in Each Banner Slideshow

This theme has option to let you create and manage Unlimited Banner Slideshows.
With this theme you are allowed to add Unlimited Slides in each banner for your website.
These slides are highly configurable from Admin Panel.
Configurable Widgets
Utube Clone Theme has uniquely designed widgets which will make your website more elegant and unique so that it can stand out from others. This Theme comes with various widgets such as:
Banner Slideshow
Header
Home Photos
Home Slider
Home Videos
Login
Member Cloud
Popular videos
Text Content
Home Slider
Robust Admin panel
This theme has a very robust admin panel and all the featured explained in this description can be very easily enabled / disabled and configured from the admin panel of this theme. Other configurable settings are:
Configure various Global settings.
Set your own color scheme
Set attractive landing page
Customize settings for the Header.
Configure settings for Fonts etc.
1 Click Install & Easy To Setup
This theme can be easily installed with 1 click and can be easily configured. Helpful Video Tutorials, Installation Tutorial and FAQs for this theme will make it more easy for you to setup and use this theme on your site.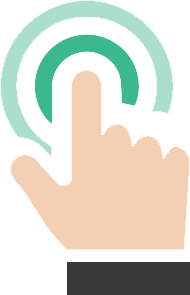 Lifetime Upgrades & 90 Days Free Support
Get free upgrades lifetime for this theme and free support for first 90 days of your purchase.