Segpay is a secure and open payment gateway which gives you total control over the payment process & offers comprehensive payment services for customer and merchants. Using Segpay Payment Gateway user can process debit and credit card payments with a single payment gateway solution. It provides several ways to get paid. It is worthy for all the e-commerce websites. Segpay helps to protect online merchants with its proprietary fraud mitigation system and provides unmatched customer support.
It's a benefit for those site owners who are not able to setup secure Payment Gateway for the Adult sites. With this Segpay Payment Gateway Integration Plugin, you can easily manage payment transactions on adult sites by charging for Membership Subscription Plan on your website. You can easily get your Package & Price Point ID at Segpay after site approval. Segpay contains all the information of subscribers and their transaction details so that you could know the date and time of transaction and also the amount paid to the site owner. You can even set your transaction failed and success texts in the settings also.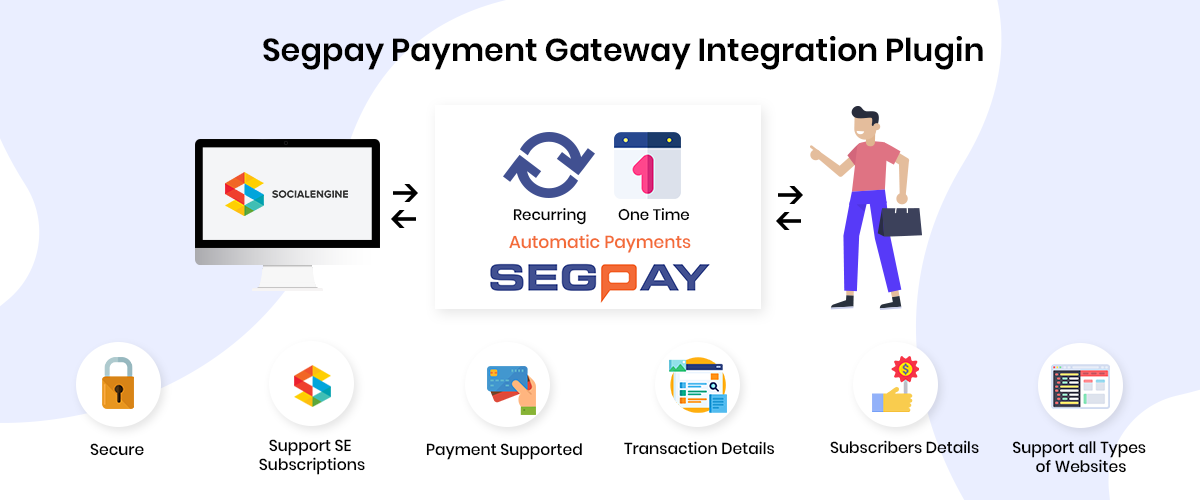 Key Features
Support SE Subscriptions

This plugin well supports SE Membership Subscriptions Plan to which members can subscribe for making payment in order to access your site.

Payment Supported

It supports One Time as well as Recurring Payment Type for the transactions between Site owner & the subscriber. You can choose Segpay Package & Price Point ID for each Plan at your SE website.

Subscribers Details

It contains the Information of the members (subscribers) who have subscribed for the specific plan on your website.

Transaction Details

It also contains information regarding the payment details that is Date and Time of payment and the amount paid to the site owner.

Easy to Use

This Plugin is very easy to use as site owner can easily use it for the transactions followed at his site.

Monetization

Paypal does not supports adult websites. By charging for membership subscription plan on your website you can allow your users to access your Adult Site by making payment via segpay.

Secure

Payment via SegPay is very secure as it gives you total control over the payment process & offers comprehensive payment services for customer and merchants.

Support all Types of Websites

As we know it's an alternative to the other payment gateways(like Paypal) which do not support payments for the adult sites. But It also supports other types of websites as well.

Success & Fail Text

For this Plugin, Site Owner can enter Success & Fail Text which will get show in the Segpay Gateway at the time of the transaction on your website.

UserName & Password

Also site owner need to enter the Username & Password while configuring this Plugin in Admin Panel.

1 Click Install & Easy to Setup

It's very easy to install this plugin and configure segpay member subscription plugin for this Plugin.

Lifetime Upgrades & 90 Days Free Support

Get free upgrades lifetime for this plugin and free support for first 90 days of your purchase.
How to get Started with Segpay Payment Gateway Integration Plugin
Firstly you need to get your website whitelisted at Segpay, so that you can get authorized access to the payment process between you and your site users after subscribing to the suitable membership subscription Plan.

Then you have to Install Segapay Payment Gateway Integration Plugin by following the steps in this link:
https://help.socialnetworking.solutions/faq/51/how-to-purchase-and-install-ses-product

After the successful Installation of plugin as in Step 2 above, go to "Plugins" dropdown in the Main menu and select "SES-Segpay Payment Gateway Integration Plugin".

Go to the Global Settings:

Configure it by entering Username & Password for Segpay in global settings. Also you can enter the text you want to show in Segpay gateway in case of success/ failed transaction.

Get your Package & Price Point ID at Segpay when your website get whitelisted after approval.

Enter the package and price point Id at subscription Plans created on your social engine site.
You are done!! Start getting money for membership subscription on your site.