Professional Messages Plugin
Now Message Management become easy with advanced & demanding features of this Plugin.
Advanced Message Board.
Multiple Attachment types supported.
AJAX based message loading.
Manage all messages of site at single place.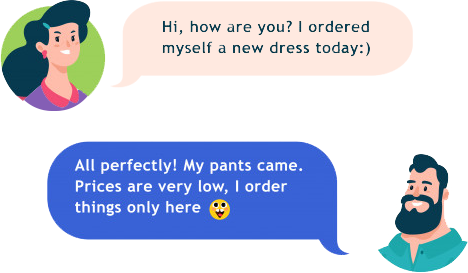 Better user interface & message management

This advanced plugin enabled you to directly interact with the other user/users at the same time at attractive message board.

Quick Messaging Response

Messaging with this plugin become very fast as it uses AJAX technology which don't require reloading of the page every time.

Most Powerful Admin Panel

Everything is in the hands of the Site admin as he can enable/disable any setting of this plugin from the powerful admin panel.

Multiple Media type supported

Messaging become advanced by enabling you to send GIF, Audio, Video, Music, Emoticons in messages to each other.
Exploration is needed! Let's have a tour of this Plugin.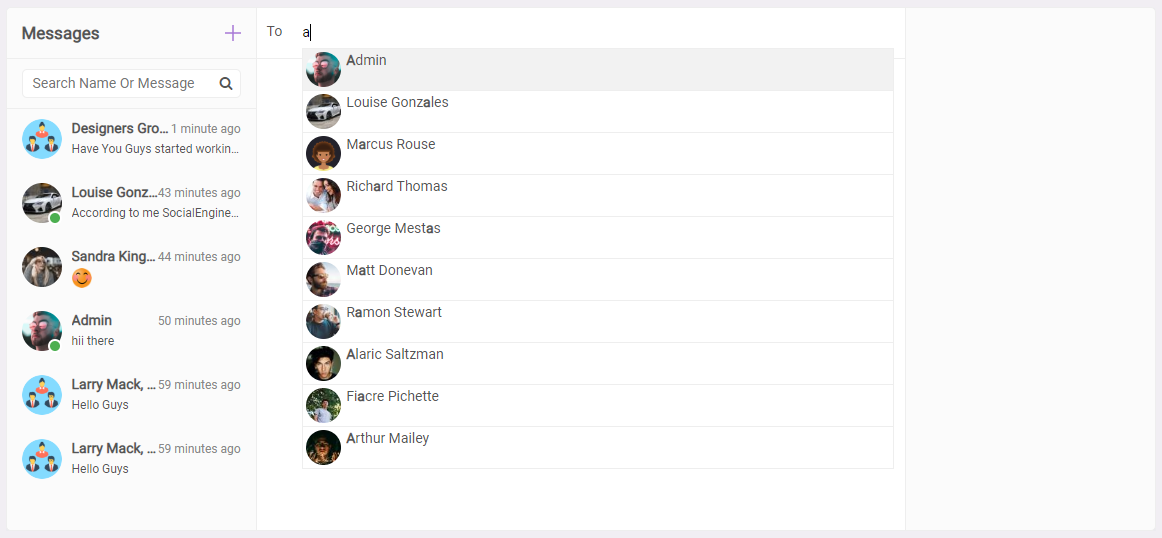 Start a Conversation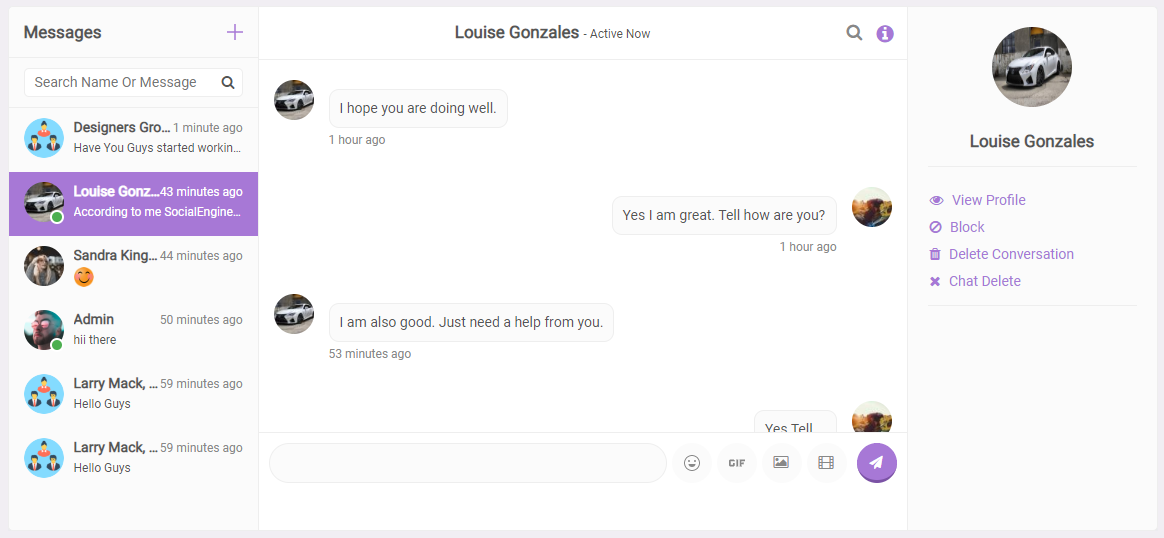 One to One Messaging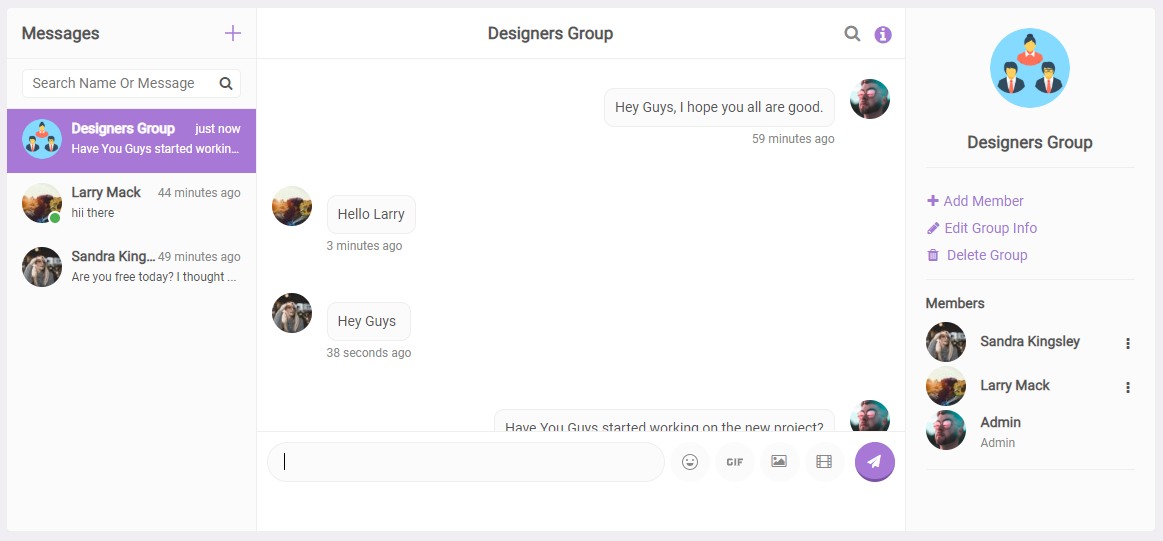 Group Messaging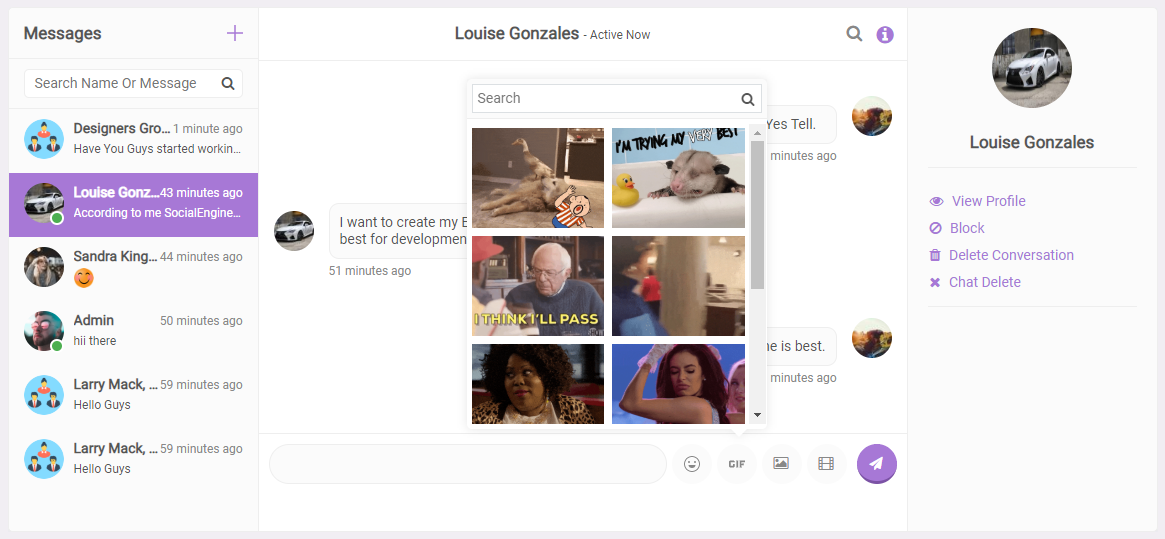 GIF Support
What Features make it different?
Our aim is to provide you with all the possible features a messaging plugin can have!
Configurable Messages

Users can send/receive messages via message board & can edit/delete their message anytime they want.

Group Messaging

You can create a Group for the conversation and add as many Admins for that group.

Multiple Media Types supported

Make your conversation more interesting by sharing GIF, Audio, Video, Music, Emoticons in messages.

Multiple Photo upload

Upload multiple photos at the same time in messages for which Professional Activity & Nested Comments Plugin is needed.

Integration with GIPHY

Send GIFs in messages with GIPHY which is well integrated with this plugin & supports searching also.

Messages Page Settings

For ease of user, this plugin provides various settings for Messages Page which can be enable/disable as per need.

Search users via auto-suggestion

Top search provides you auto suggested users list which get displayed in dropdown when you starts typing.

User based messaging

Based on the member level settings, site admin can choose the types of users(Everyone / Friends only) for which messaging is allowed.

Last Seen Visibility

Admin can enable Last seen visibility option for users which get listed on the left side users list just below their names.

Online Status

Online status with green circle get visible with the user image in the left side whenever he get online on site.It can be enabled disabled from the admin panel.

Block Users

Users can be blocked anytime from the Info section at message board which is coming at the top right side adjacent to search bar.

Delete Conversation

Conversation between users can be deleted from the info section at Message Board whenever required.

Clear Chat

Clear chat feature enables you to clear the whole chat for the user such that user will also get disappeared from the left side list for which chat has been cleared.

View user Profile

Message sender can view the profile for the user to which he is sending the message from the info section at the top right side.

Help & Support

To provide you answers for all the queries regarding usage & installation of this plugin, we have created & Help section in admin panel.
1 Click Install & Easy To Setup
This plugin can be easily installed with 1 click and can be easily configured. Helpful Video Tutorials, Installation Tutorial and FAQs for this plugin will make it easier for you to setup and create Ads using this plugin on your site.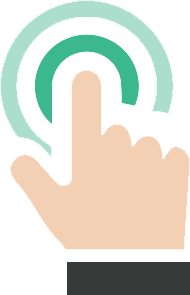 Lifetime Upgrades & 90 Days Free Support
Get free upgrades lifetime for this plugin and free support for first 90 days of your purchase.