To say it simply, nothing is perfect and this is also true for the pages. We simply can't guess or judge in which direction the pages of our website are going when we create them with the initial state of mind.
So Page Directories – Reviews & Ratings Extension will help you to improve the quality of your Pages by getting the valuable Reviews and ratings for them by the users. These Reviews will help you to build trust among the users and hence increase the engagement also on your website. With the reviews you can get more targeted traffic to your website.
With this Extension, users are allowed to give Pros, Cons, Description and Recommendations with the ratings for the Pages on your website. Ratings can be given over rating parameters also as configured by admin for the Pages. They are also allowed to share or Report any Review whenever required.
Reviews & Rating
Users are allowed to give Reviews and Ratings for the pages on your website. Page Directories Review Extension facilitates you with the following features:
Admin can choose to enable / disable reviews for Pages.
Admin configurable Rating Parameters based on Pages categories.
These custom review fields can also be made searchable.
Pros and Cons fields: Easily highlight the good and bad experiences of reviewers.
Main review of the page contains title and Description.
Browse Reviews page will allow to browse all the reviews created on your website .
Search and Filter Reviews Form at various pages of this extension.
Admin can choose who can review Pages (Member Level Settings).
Reviews tab on Page Profile Page shows overall, average and parameter based ratings, recommended Page with the mark sign.
For all Reviews, users can choose whether they find them helpful or not.
Members can mention if they would Recommend the page to someone.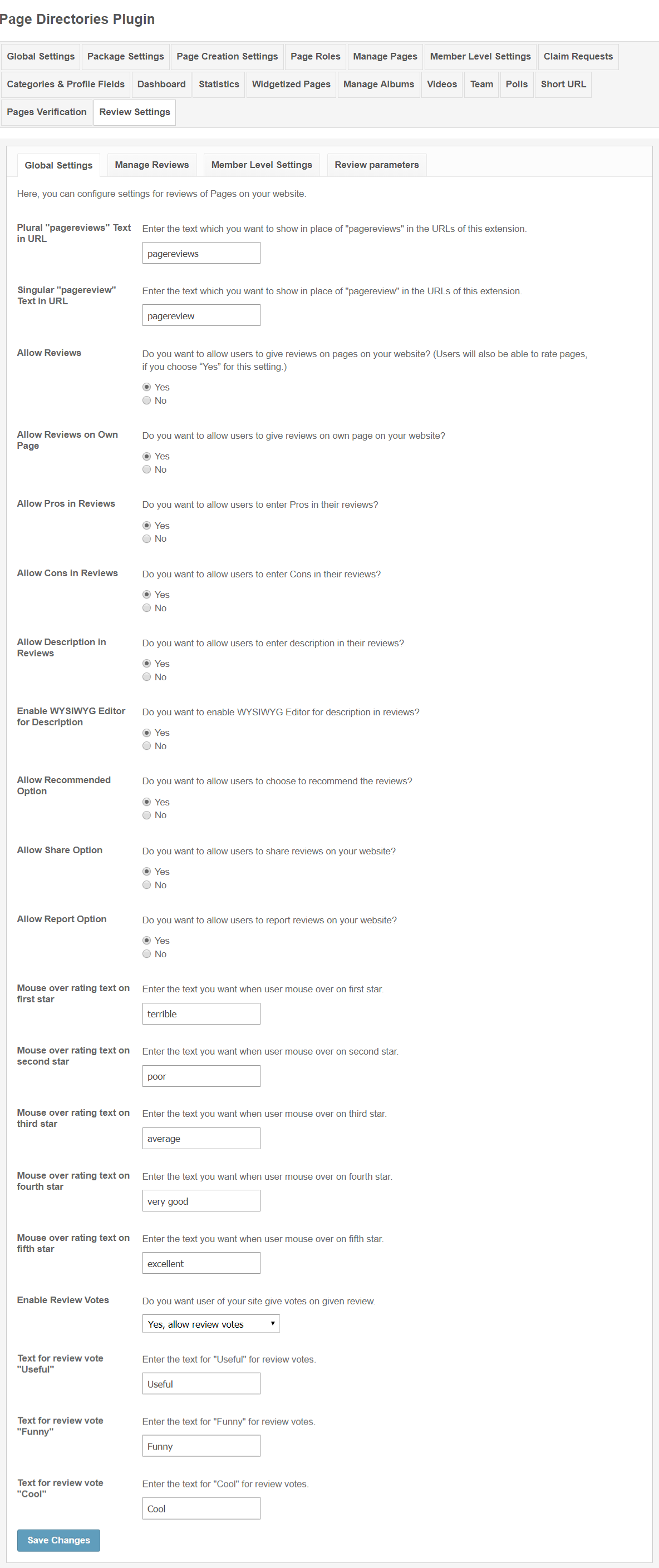 Pros and Cons
Admin can enable Pros and Cons fields for the reviews of Pages from the Admin Panel of this Extension. These are used to easily highlight the good and bad experiences of reviewers while giving ratings and reviews for the Pages.

Review Description
To make the review for Page more detailed and clear, this extension allows your users to add description while giving reviews for any page on your website.

Category Based Review Parameters
Multiple Rating Parameters can be added based on categories of the Pages. These parameters will also get rated along with the ratings for the Page while giving the Review on your website.

Ratings on Review Parameters
Users can also give ratings to the Multiple Review parameters which are configured by the Admin from Admin Panel. These Ratings will get visible at the Review View Page along with the review ratings which users give on your website.

Custom Mouse Over Rating Text
While giving ratings, mouse over texts can be added for all rating stars like: text "Terrible" can be shown when users mouse over on 1st star, "poor" can be shown when users mouse over on 2nd star and so on.

Voting on Reviews with Custom Texts
Admin can enable further voting on Reviews with the custom texts which are configurable from the Admin Panel. These custom texts can be any such as "Useful", "Funny", "Cool". Single user is allowed to give more than one vote on the same review of the Page.

3 Labels for Reviews
Reviews for the Pages can be marked Featured, Verified and Of the Day from admin panel of this extension.
Variety of Widgets
For Page Directories Review Extension, we have various Widgets with the help of which you can give reviews to pages and can view them also at their View Page. All these widgets are highly configurable.
Browse Page Reviews

Displays Reviews for Page. This widget is only placed on " Browse Review Page" Only.

Page Review of the Day

This Widget displays review of the Day as chosen by you from the Edit Settings of the widget.

Popular/ Featured/ Verified Page Review

Displays page reviews as chosen by you based on the criteria for the widget.

Profile Page Review

This widget display review of page. This widget placed on Page Profile Page.

Review Breadcrumb for View Page

Display breadcrumb for review. This widget should placed on Review View Page.

Review Browse Search

Displays a search form in the Review Browse Page. This widget should placed Browse Page Reviews Page.

Review Owner's Photo

This widget display Review Owner photo. This widget is placed on Review View Page.

Review Page Profile

Display a Page Review Entries on their Profile. This widget is placed on Review View Page.

Review Profile Options

Displays a menu of actions(edit, report, share etc.) that can be performed on a content on its profile.

Review Taker Photo

This widget display review taker photo.This widget is place don review view page.

Browse Reviews Page Button

This widget displays a button clicking on which users will be redirected to the Browse Review Page.

Tabbed Widget for Popular Page Reviews

Displays a tabbed widget for popular reviews on your website based on the various popularity criterias.
3 Widgetized Pages
Page Directories Review Extension comes with the 3 Widgetized Pages where you can configure various settings for the widgets as well. These Page are:
Robust Admin Panel
Page Directories – Reviews & Ratings Extension has a very powerful admin panel which provides various settings to enable / disable for almost all the options. We have provided a rich set of settings. Writing about admin panel would be too short for this extension, so we have created Screenshots of all the sections in Admin Panel.
Global Settings

Global Settings allows you to enable various settings for the Page reviews such as Review on own pages, Pros/Cons for the reviews, Description, Recommended Option, Share & Report for reviews, Voting on reviews etc.

Manage Reviews

This section lists all of the reviews your users have created on your website. Admin can use this page to monitor the reviews and delete offensive material if necessary. Admin can mark any of the review as featured, Verified or Of the Day according to the requirement.

Member Level Settings

Member Level Settings are applied on a per member level basis. Start by selecting the member level you want to modify, then adjust the settings for tha level. From this section you can enable various settings such as Viewing, Editing, Commenting, deleting any Review. Also you can enable members to write a reviews for the pages.

Review Parameters

Admin can add multiple Review Parameters from this section, which users can rate at the time of Review Creation for the Pages on your website.
Activity & Notification Integration
Page Directories –Reviews & Ratings Extension is seamlessly integrated with the Notification system with which users will get notified whenever review will be created for their Pages or to the Page owner who had created the page.
When any user write review for the Page, feed will also get generated in the activity feed for the same.
1 Click Install & Easy To Setup
This extension can be easily installed with 1 click and can be easily configured. Helpful Video Tutorials, Installation Tutorial and FAQs for this extension will make it more easy for you to setup and allow your users to create reviews fro pages and give ratings on them.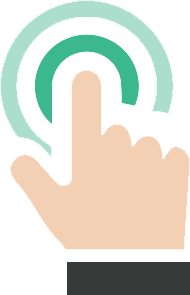 90 Days Free Support
Get free upgrades lifetime for this extension and free support for first 90 days of your purchase.