When people arrive at Member Profiles on your website, where do you want them to first look? We suggest you to show them the Cover Photo or Video, a large unique photo/video at the top of the member profiles that represents who your members are or what they care about. Cover Photos & Videos helps to make the profile of members more interesting and attractive.
This plugin provides you the option to show Cover Photo/Video on top of the Member Profiles with Attractive Tabs, Member's basic details [configured from admin panel] with a choice of 3 design templates.
Admins can also choose a default Cover Photo for Member Profiles based on their Member Levels, which will be helpful in case when users of particular member level are not allowed to upload their cover photos or videos or if members have removed their cover photo/video.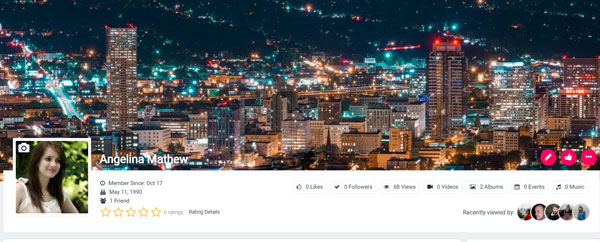 Member Profile Cover Photo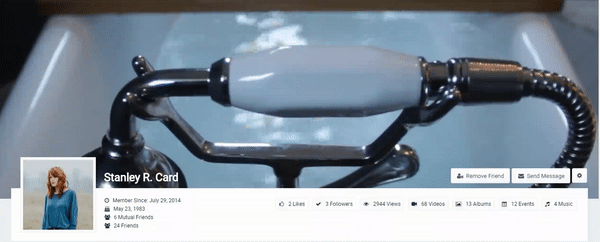 Member Profile Cover Video
Key features of Member Profiles Cover Photo & Video Plugin
Attractive and customizable design for Cover Photo/Video, Profile Photo and member's basic information.
Members can upload unique photos/videos for their member profiles to show who they are or what they care about and in what things they have more interest.
100% Responsive
Attractive Tabs on User Cover Photo Widget or User Cover Video Widget: AAdmins can choose placements of tab container – Inside/Outside Cover Photo Widget or Cover Video Widget.
3 Template Designs for Cover Photo/Video: Site admins can choose from 3 different template designs based on different Member Levels.
Member Cover Photo widget: In this widget members can:
Upload cover photo from their Existing Albums dependent on "SE Photo Albums Plugin" or "Advanced Photos & Albums Plugin", add new cover photo from hard drive or can take new photo from their webcams.
Reposition cover photos by dragging them vertically up and down.
Remove cover photo.
Upload profile photo via AJAX without having to leave the member profile page.
Remove Profile Photo
Member Cover Video widget: In this widget members can:
Add new cover video from hard drive.
Remove cover video.
Upload profile video via AJAX without having to leave the member profile page.
Remove Profile Video.
Additional features forMember Profiles Cover Video:
2 Types of Actions Buttons:Buttons with Icons only and Button with Text and Icons both.
Action Links on member's profile: Edit Member Profile, Block Member, Report, Add to My Friend.
Ajax based options to Add Friend, Remove Friend, Cancel Friend Request and Accept Friend Request options.
Widgets

Member Profile Photo Widget display profile photo on member on Member Home Page

Member Profile
Cover Photo Widget

Member Profile
Member Cover Video Widget
Admin Panel
| | |
| --- | --- |
| Allow to upload cover photo/video. | Choose information to be shown in cover photo/video widget. |
| Height of the cover photo/video widget. | Default Cover Photo to be shown when members have not chosen their profile cover photos/videos. |
| Tabs placement | Choose Design Template from 3 choices. |
| Buttons Type, Icon Type | Showing member's profile photo in round shape. |
| Cover photo/video to be shown in full width | |
1 Click Install & Easy To Setup
This plugin can be easily installed with 1 click and can be easily configured. Helpful Video Tutorials, Installation Tutorial and FAQs for this plugin will make it more easy for you to setup and create slideshows using this plugin on your site.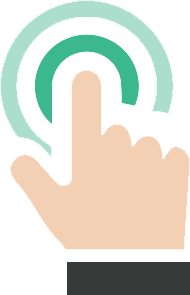 Lifetime Upgrades with 90 Days Free Support
Get free upgrades lifetime for this plugin and free support for first 90 days of your purchase.