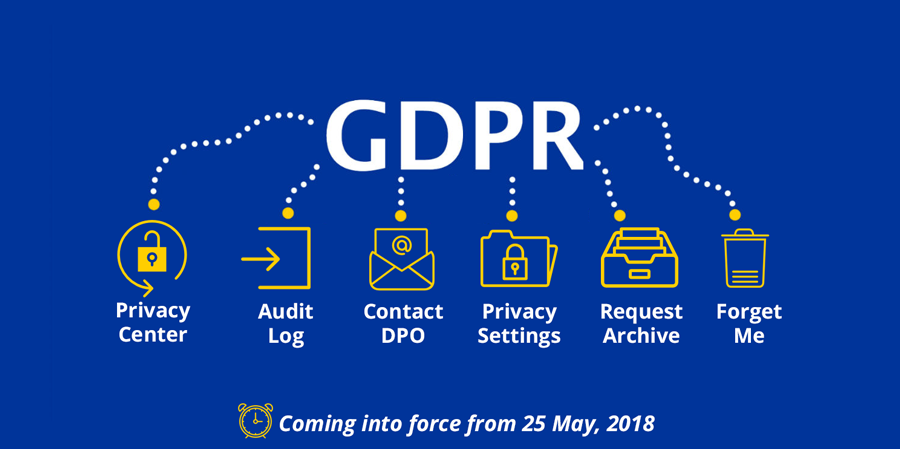 From 25 May 2018 every website collecting data from EU citizens must meet the GDPR requirements. The General Data Protection Regulation (GDPR) standardizes data protection law across all 28 EU countries and imposes strict new rules on controlling and processing personally identifiable information (PII).
So, now only 3 Days are left to get your website GDPR Compliant.
Professional GDPR plugin for socialengine website is a compliance toolkit to help your SocialEngine website comply with each aspect of the new European GDPR. This plugin provides your website with robust privacy dashboard where users of your website can easily Accept consents, Withdraw consents, Opt Out and from other 3rd party services used no your website from their respective websites, make requests to Data Protection Officer, for Subject Access Request, Unsubscribe Requests, Forget and Erasure Requests.
Banner for Cookie Consent can be easily configured from the admin panel as per the requirement and site theme. You can easily choose the placement of the Banner on your website. Once given, users can easily withdraw their consent and check the date and time on which they provided the consent.
From the admin panel of this plugin, you can easily manage each request in its respective section. Admin can take appropriate action from the admin panel by Replying, maintaining notes to take action later, etc. Admins can also easily checkout the Audit Log for every logged in or non-logged in user who have requested from any of the form of this plugin by.
KEY FEATURES
Privacy Center: Privacy Center of this Professional GDPR plugin provides a very easy to use dashboard where users can easily make and manage their data protection enquiries and cookie consents.

Privacy center is automatically created page – YourSite.com/privacy-center
Clearly demonstrate a proactive approach to GDPR compliance

Audit Log: The Audit Log is one of the most important feature which gives a complete log of users on your website when they are providing consents, withdrawing them and making any requests with date and time in the admin panel of your website.
Cookies & Privacy Policy Consent: Display Cookie consent in attractive banner (Admin configurable). This plugin automatically blocks all cookies until cookie consent is given. Users can easily view their consent date and withdraw if they do not want to continue their consent.
Contact DPO: Easily accessible form for the users of your website to make a special request concerning their personal data to the Data Protection Officer of your website and business. You can also enter the emails of all DPOs of your website.
Privacy Settings: With this plugin, you can easily enter all the 3rd party services which are used on your website from admin panel. You can also enable / disable them. Users can easily Opt Out configure their settings on the website of respective service provider.
Request Archive: There is an easily accessible form to perform Subject Access Request. This is required to allow users to provide a way using which they can request you to provide all the data that you possess on them.
Unsubscribe: You might be sending emails to your users via various mailing services, so using this form they can easily request you to remove them from all the mailing lists.
Forget Me: Easily accessible form for the users of your site to request deletion and erasure of all the stored data. SocialEngine already has Delete option for each user which you can use to take action.
Integration with SocialEngine Mail Templates: This plugin is seamlessly integrated with the SocialEngine's mailing system. Admins will receive an email as soon as new Consent request is made by the users of the website.
Rich, Robust and Highly Configurable Admin Panel with Privacy Center page, widgets and integration with SE Email system for receiving and replying to GDPR related queries.
Frequently Asked Questions
What is GDPR?
This Regulation lays down rules relating to the protection of natural persons with regard to the processing of personal data and rules relating to the free movement of personal data.
This Regulation protects fundamental rights and freedoms of natural persons and in particular their right to the protection of personal data.
The free movement of personal data within the Union shall be neither restricted nor prohibited for reasons connected with the protection of natural persons with regard to the processing of personal data.
How do Businesses benefit from GDPR?
Build stronger customer relationships and trust
Improve the brand image of the organization and its brand reputation
Improve the governance and responsibility of data
Enhance the security and commitment to the privacy of the brand
Create value-added competitive advantages
Who does the GDPR affect?
The GDPR applies to all EU organisations – whether commercial business, charity or public authority – that collect, store or process EU residents' personal data, even if they're not EU citizens.
The GDPR applies to all organisations located within the EU, whether you are a commercial business, charity or public authority, institution and collect, store or process EU citizen data. It also applies to any organisation located outside of the EU if they also collect store or process EU citizen data.
What is considered personal data?
The GDPR defines personal data as any information or type of data that can directly or indirectly identify a natural person's identity. This can include information such as Name, Address, Email, Photos, System Data, IP addresses, Location data, Phone numbers, and Cookies.
For other special categories of personal data, there are more strict regulations for categories such as Race, Religion, Political Views, Sexual Orientation, Health Information, Biometric and Genetic data.
What are the penalties for non-compliance?
Organizations can be fined up to 4% of annual global turnover for breaching GDPR or €20 Million. This is the maximum fine that can be imposed for the most serious infringements.
There is a tiered approach to the fines whereby a company can be fined 2% for not having their records in order (Article 28), not notifying the supervising authority and Data Subject about a security breach or for investigating and assessing the breach.
Am I compliant just by activating this plugin?
No, this plugin is meant to assist a Controller, Data Processor, and Data Protection Officer (DPO) with efforts to meet the obligations and rights enacted under the GDPR.
Activating this plugin does not guarantee that an organisation is successfully meeting its responsibilities and obligations of GDPR. Organisations should assess their unique responsibilities and ensure extra measures are taken to meet any obligations required by law and based on a data protection impact assessment (DPIA).
Purchase NowView DemoGet Hosting
To stay tuned to our latest updates
Follow us on Twitter, Like us on Facebook
You can subscribe to our Newsletter from the footer of our website.
For urgent issues reach out to us at:
+91-9950682999 | vaibhav.sesolution