Today is World Social Media Day! Globally the social media day was launched as a way to recognize and celebrate social media's impact on global communication & our day to day life. So on this day, we are providing FLAT 20% Off on All SNS Products ( including Plugins, Themes, Mobile Apps, Packages & Bulk deals) only for 2 DAYS – 30th June, 2021 & 1st July, 2021.
We are also offering an extra 10% Discount on Ultimate Social Media Package which will help you to set up your own social media based community with easy to use plugins.
Coupon Code: SocialMediaDay2021_20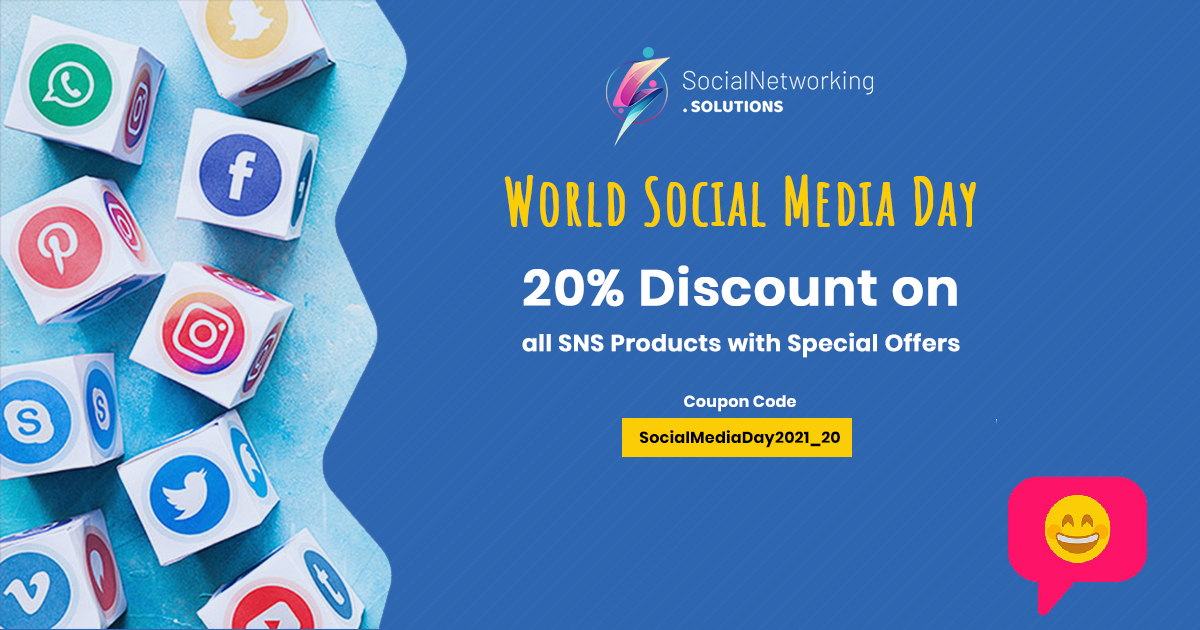 Also get extra 10% Discount on our User & Content Creation Service which you can avail directly by using the above coupon code.
** This offer is valid on 30th June, 2021 & 1st July, 2021 only.**
For any query or doubt, please feel free to contact our support team at support@socialnetworking.solutions
GET CONNECTED WITH US !!!
To boost up the relationship between Experts & Clients, SocialEngine has introduced a new section within their community. So, to stay updated with our New releases, Upgrades & Exciting Offers, please join our SocialNetworking.Solutions Group on SocialEngine Community (after signup).
To stay tuned to our latest updates
Follow us on Twitter, Like us on Facebook, Subscribe our Newsletter
For urgent issues reach out to us at:
+91-9950682999 | vaibhav.sesolution