For the last few days, we are spending our whole time being locked down at home due to the worldwide outbreak of COVID-19 Coronavirus. The situation is evolving rapidly and no one is quite sure what news each day will bring. Most of us have at least one thing that we have been trying to finish for what feels like forever. Everyone always seems to be complaining that they don't have enough time to do certain tasks like if they are planning to build their website or app or want to add some more features to their website, then this quarantine or self-isolation can provide you with the plenty of time to finish those projects or ideas that you have been postponing from a long time.
We are also aware of the fact that the COVID-19 crisis has tanked the worldwide market, which might have made you concerned about money as well. But SNS understands your financial responsibilities & problems very well & so for that we are always available to provide you best offers on our products.
Our team has also extended their working hours in order to achieve all the targets for our valuable clients. We also know that each time our offers are highly appreciated & availed by our clients so by keeping this in mind, we've come up with an amazing offer of FLAT 30% Off on all SNS Products (Plugins, Themes, Packages, Native Mobile Apps & Bulk Deals) till 20th April 2020 which not only saves your money but also helps you make the most out of this Quarantine time.
Pick anything and almost everything you want from a wide range of products from this discount & make your website more productive with our awesome multipurpose plugins and themes.
Coupon Code: COVID30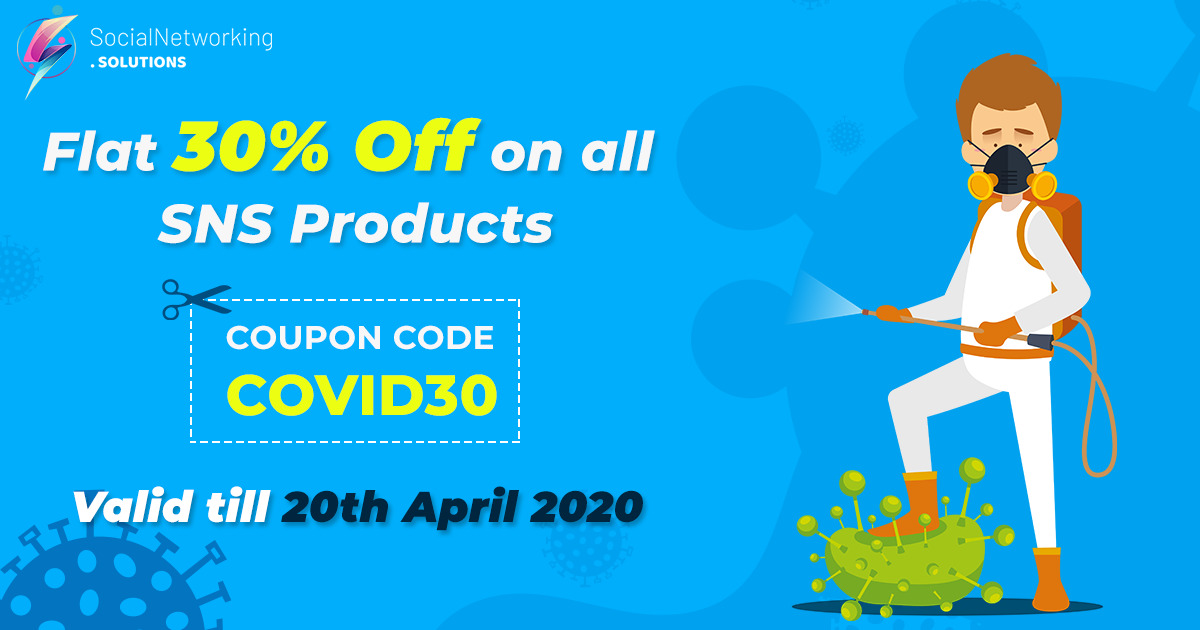 Checkout our Blog posts for latest updates here: https://socialnetworking.solutions/blog
To stay tuned to our latest updates
Follow us on Twitter, Like us on Facebook, Subscribe our Newsletter
For urgent issues reach out to us at:
+91-9950682999 | vaibhav.sesolution