We at SNS are celebrating our company's 8th anniversary. Our hard work, loyalty, and diligence has made us one of the best companies. Today, we want to express our gratitude towards our valuable clients who have trusted in our work, services and products.
On this special and joyful occasion, we are glad to offer flat 30% discount from 8th July 2022 to 17th july 2022 on all our products including:
Plugins | Themes | Native Mobile Apps (Android & iOS) | Packages | Bulk Deals | Subscriptions
Coupon Code: 8thAnniversary_30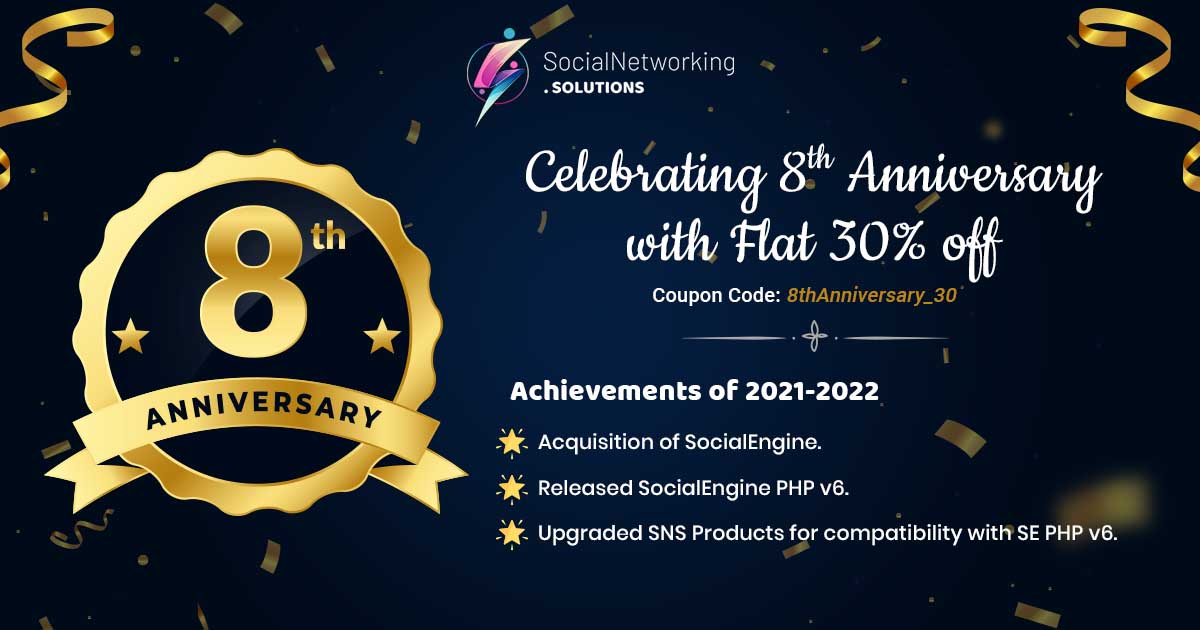 It's tough to stay put in the top developers for a very long time, but our team's hard work has helped us achieve which is a dream of many. We are glad to list down few of our major achievements in the last year:
Our parent company Ahead WebSoft Technologies has acquired SocialEngine.
After our acquisition, we have been able to release the long awaited SocialEngine PHP v6 upgrade.
With the v6 upgrade, we were also able to make SocialEngine compatible with the latest PHP 8 versions.
Our team was not only able to upgrade SocialEngine, but also we have upgraded all SocialNetworking.Solutions products and released compatibility with SE V6 within a very short span of time.
Upgrading all 200+ products was not an easy task, our team has put a lot of effort into making plugins compatible with latest SE and PHP versions. New upgrades are lined up in the coming weeks.
We were also able to deliver custom works within committed timelines.
GET CONNECTED WITH US !!!
To boost up the relationship between Experts & Clients, SocialEngine has introduced a new section within their community. So, to stay updated with our New releases, Upgrades & Exciting Offers, please join our SocialNetworking.Solutions Group on SocialEngine Community (after signup).
To stay tuned to our latest updates
Follow us on Twitter, Like us on Facebook, Subscribe our Newsletter
For urgent issues reach out to us at:
+91-9950682999 | vaibhav.sesolution