Wishing you all Happy Independence Day & Happy Raksha Bandhan 🎉🎉
India's 75th Independence Day is coming on 15th August 2021 followed by Raksha Bandhan which will be on 22nd August 2021. Independence Day is celebrated in India to honour the sacrifices and struggles our freedom fighters made to make India independent from British rule. Whereas on the other side, Rakshabandhan praises the most flawless and honest bond of brothers and sisters as it is the celebration of the special and unconditional love of siblings and is dedicated to siblinghood.
So on behalf of this double celebration, we are providing a flat 25% OFF on All SNS Products including Plugins, Themes, Mobile Apps, Packages & Bulk deals till 23rd August, 2021.
COUPON CODE: 75Independence_25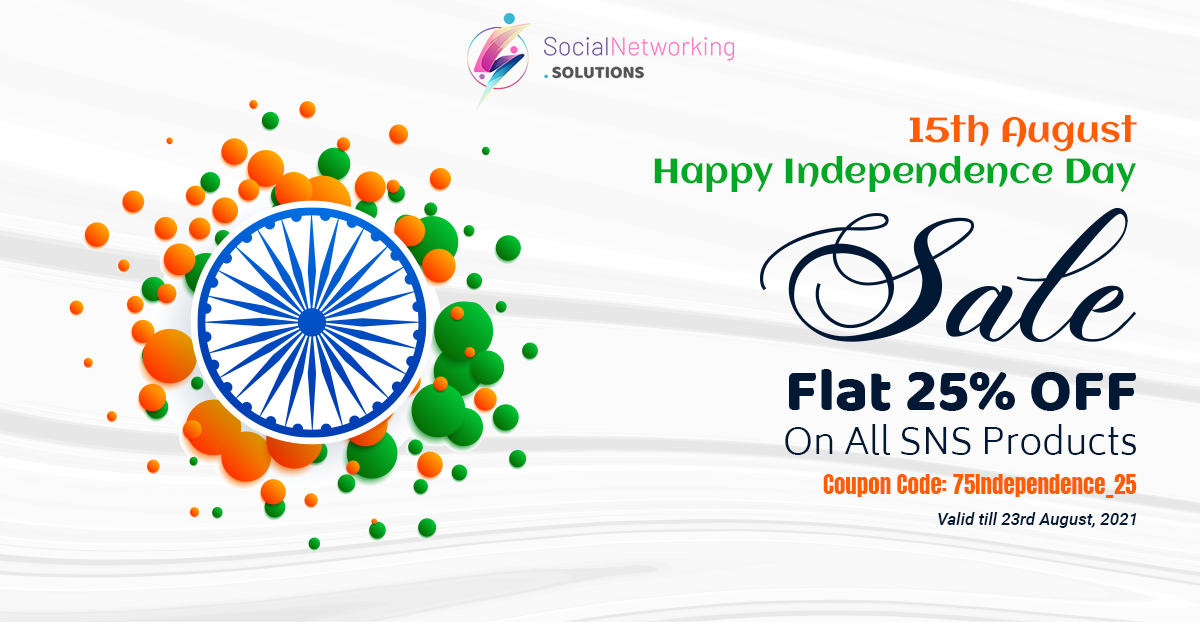 **The offer is valid till 23rd August, 2021**
Due to this weekend Holiday there could be a delay in answering your support queries and resolving issues on your website due to the limitation of our team on 15th August, 2021 & on 22nd August, 2021.
For any query or doubt, please feel free to contact our support team at support@socialnetworking.solutions
GET CONNECTED WITH US !!!
To boost up the relationship between Experts & Clients, SocialEngine has introduced a new section within their community. So, to stay updated with our New releases, Upgrades & Exciting Offers, please join our SocialNetworking.Solutions Group on SocialEngine Community (after signup).
To stay tuned to our latest updates
Follow us on Twitter, Like us on Facebook, Subscribe our Newsletter
For urgent issues reach out to us at:
+91-9950682999 | vaibhav.sesolution