Holi festivals bring joy and enthusiasm, as well as an abundance of color! International Women's Day honors women around the globe. The Responsive A to Z theme for SocialEngine PHP is full of color and life – perfect for both celebrations. Our 30% off Holi and Women's Day discount will help you bring color and joy to your social networking community!
This sale event includes all plugins and themes, a perfect time to pick up that special feature you've been looking for and surprise your members with something new for them to enjoy. Perhaps it's time to change your site look with a new theme and ring in spring. If you've been waiting to purchase mobile apps, this is the best opportunity to get them at a discounted price. Everyone these days is mobile!
SocialNetworking.Solutions' Sale Details
Discount amount: 30%
Start Date: March 4, 2023
End Date: March 12, 2023
Discount Code: Holi2023_30
Qualifying Product(s): Plugins, Themes, Mobile Apps, Packages & Bulk Deals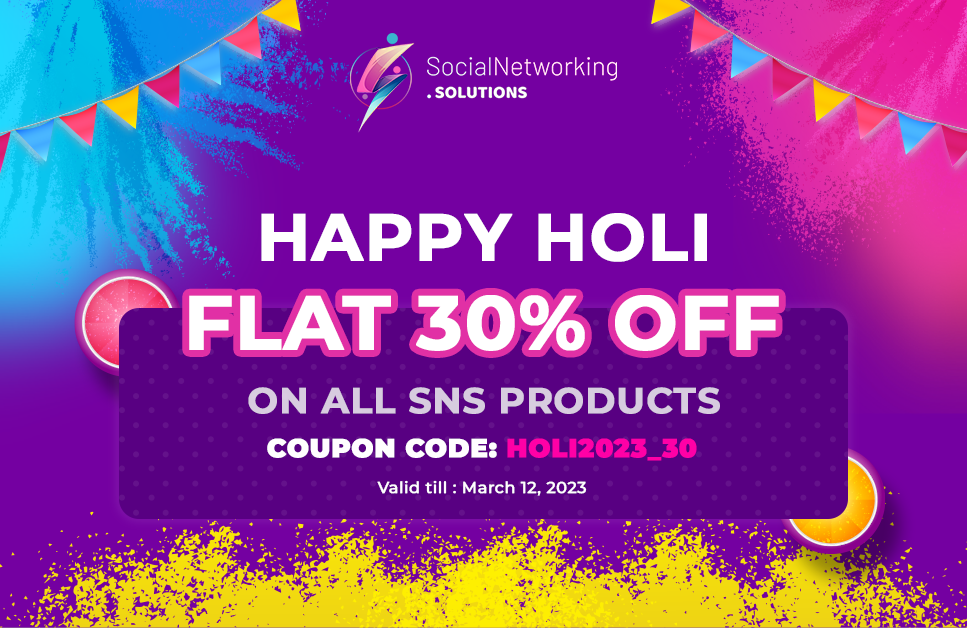 If you have any questions, our team would love to hear from you.
It is the season of new beginnings, a new harvest, a new moon and a new zeal for life and love. May you be showered with all of these and a lot of happiness. Happy Holi to you and your dear ones! Have the best day, month, and year
GET CONNECTED WITH US !!!
To boost up the relationship between Experts & Clients, SocialEngine has introduced a new section within their community. So, to stay updated with our New releases, Upgrades & Exciting Offers, please join our SocialNetworking.Solutions Group on SocialEngine Community (after signup).
To stay tuned to our latest updates
Follow us on Twitter, Like us on Facebook, Subscribe our Newsletter
For urgent issues reach out to us at:
+91-9950682999 | vaibhav.sesolutions