Finally the time has come when we have to say goodbye to Year 2020😞 & move forward to Welcome 2021😇 with great excitement & enthusiasm. We are very thankful to our clients to have faith in our hard work & always support us in all our achievements throughout this year.
So we are here to make your New Year more Joyous & full of happiness by offering Upto 90% Off on everything including Plugins, Themes, Mobile Apps, Packages, Bulk Deals & Services till 3rd January 2020. These awesome discounts will surely gonna unfold your happiness & your New year mood.
Exclusive Offer
We know very well how important it is for any online community to protect its reputation & credibility from spam users & offensive content which can harm its online Identity. We have the solution to this worry & here for the first time, we are providing exclusive offer on below products between 25th Dec 2020 to 1st January 2021 as below:
To claim this offer, you can directly contact to our support Team at sales@socialnetworking.solutions
Followed by January 2020, we have started our year with various New Plugins & Services releases, Upgrades & Enhancements, Bug Fixes which you can checkout here. But unfortunately from March, the whole world was caught in a drastic COVID Pandemic which has caused a serious downfall to the world's economy. We all have faced a long lockdown from March till May & everything has affected a lot due to this.
But without losing hope, our team has managed everything so well by working from home & during this hard time to cope up with all this critical situation, our team has supported us with their Hard Work & till now we have released more than 20 Plugins, Upgraded more than 15 Plugins & themes & Introduced New features in Native Mobile Apps as well. This journey was not so easy for us but we have done this for you all to support & maintain your online Identity.
So here we have represented few glimpses of our Work Achievements which we have got in Year 2020: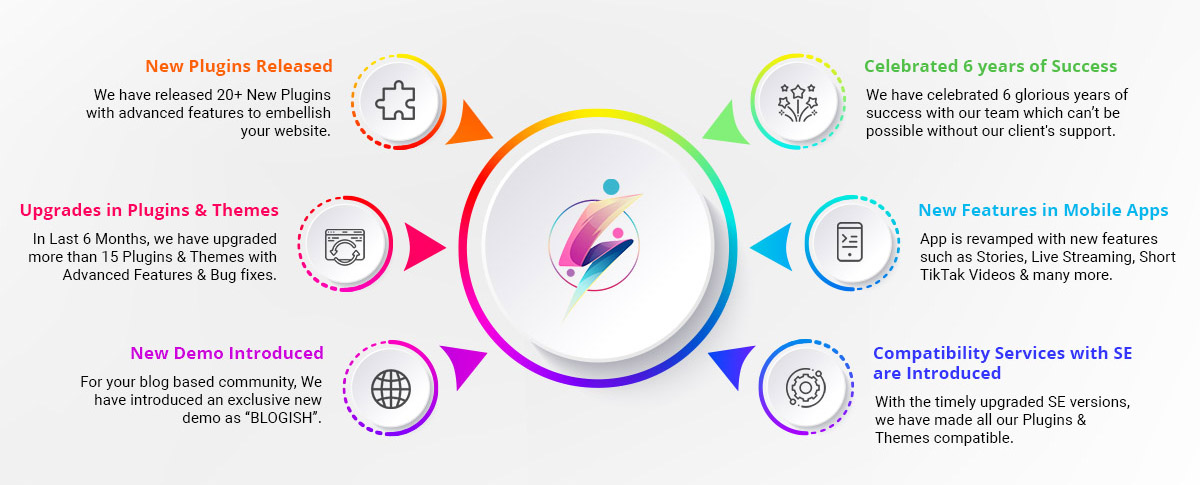 Sounds exciting? Yes, then what are you waiting for? Make your festive season worthful & Grab the offer right now!
Merry Christmas and a Very Happy New Year 2021 to you all!
To stay tuned to our latest updates
Follow us on Twitter, Like us on Facebook, Subscribe our Newsletter
For urgent issues reach out to us at:
+91-9950682999 | vaibhav.sesolution