This Independence Day, as we come together to commemorate the spirit of freedom, we're thrilled to offer you an incredible opportunity to enhance your digital experience. Enjoy an exciting Flat 30% discount on:
Plugins | Themes | Native Mobile Apps (Android & iOS) | Packages | Bulk Deals | Subscriptions
Coupon Code: IndependenceDay2023_30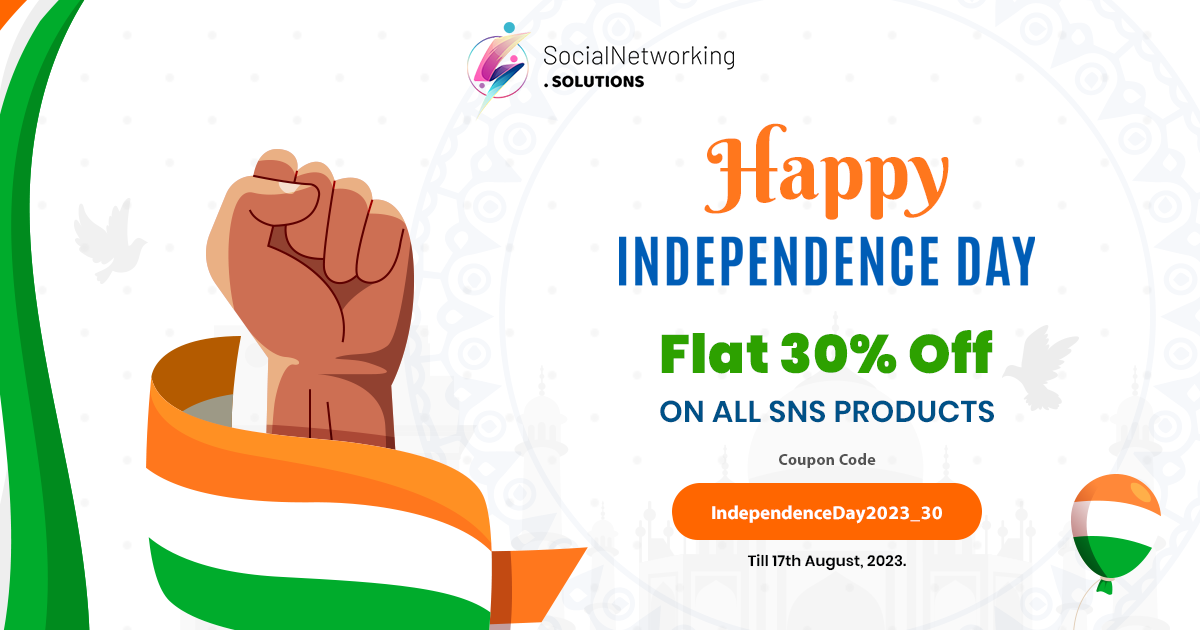 🎁 How to Claim Your Discount:
1. Explore our wide selection of plugins, themes, mobile apps, packages, bulk deals or subscriptions.
2. Choose the products that best suit your requirements.
3. Use the code IndependenceDay2023_30 at checkout page to avail of the flat 30% discount.
📅 Validity: This special Independence Day offer is valid from August 11th to August 17th 2023.
🌟 Why Choose Us:
✅ Diverse Selection: Discover a plethora of plugins, themes, and mobile apps tailored to meet your unique needs. From enhancing your website's functionality to creating stunning designs, we have it all.
✅ Enhance Performance: Elevate your online presence with our cutting-edge plugins that optimize performance, boost speed, and provide seamless user experiences.
✅ Stunning Themes: Transform your website's look and feel with our captivating themes. Choose from a variety of designs that resonate with your brand's identity.
✅ Mobile Apps for Connectivity: Stay connected with your audience on the go. Our mobile apps ensure that you're just a touch away from your customers, providing enhanced engagement and convenience.
GET CONNECTED WITH US !!!
To boost up the relationship between Experts & Clients, SocialEngine has introduced a new section within their community. So, to stay updated with our New releases, Upgrades & Exciting Offers, please join our SocialNetworking.Solutions Group on SocialEngine Community (after signup).
To stay tuned to our latest updates
Follow us on Twitter, Like us on Facebook, Subscribe our Newsletter
For urgent issues reach out to us at:
+91-9950682999 | vaibhav.sesolutions