As its well know in the world that India is a land of festivals & has a very rich culture. We here celebrate a festival almost each day specially from the August to November months. We are Today celebrating Ganesh Chaturthi in which we reveres god Ganesha. It lasts for 10 day festival and is celebrated for Lord Ganesh who is the God of good beginnings, prosperity and obstacle remover.
So, as long as Lord Ganesh is with us here, we would like to celebrate this occassion with all of our clients by offering a flat 40% discount on all the products including plugins, themes, packs and packages just for limited TEN DAYS from 25th August, 2017 – 5th September, 2017. 
Coupon Code: Ganesh_40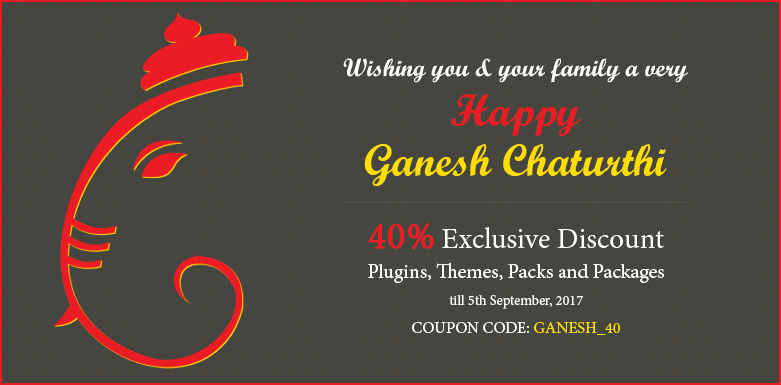 Till then stay tuned to the release of our Upcoming Products
Multiple Language Translator Plugin
iOS Mobile Apps
Android Mobile Apps
Crowdfunding Plugin
FAQs Plugin
Minify & Page Cache for Speed Plugin
Checkout all the plugins on our DEMO.
To stay tuned to our latest updates
Follow us on Twitter, Like us on Facebook
You can subscribe to our Newsletter from the footer of our website.